My Husband And I Irritate Each Other"...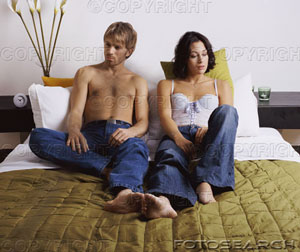 Philippines
December 27, 2006 10:45pm CST
good day to all.. I find some advices here in mylot very informative..so im asking all of you guys about my problem. You see, my husband and I argue all the time. Even small things, like what movies to watch, can start a fight. But we know that we are in love because we both can feel it..Still were like dog and cat..We always seem to irritate one another..Does tht mean we are not Compatible? Sometimes I think maybe we are just both very insecure, and so we both always want to be right. HOW CAN WE GET ALONG WELL? Sometimes its really tiring in this kind of situation.. I HOPE YOU CAN HELP..
8 responses

• United States
28 Dec 06
I don't know how long you have been married. If it hasn't been long then it may just be you need time to adjust to living with each other. My husband and I get along much better now than we did the first couple of years we were together. We still bicker about things fairly often but that's no big deal. As you say, we love each other and if we feel comfortable and secure enough to bicker in our relationship then that's okay too.

• Philippines
29 Dec 06
thanks for advicing..maybe we have to trust each other and accept each others shortcomings..maybe that will help..Anyways, thanks again and happy new year too..hope we can be friends too..

• Philippines
16 Jun 09
If you really love someone you'll understand him or her. Well not at all times but most of the time. Since we are not brought up the same, there are lots of things that a couple may argue. But still communication is the key. You should sit down and talk about what your likes and dislikes are. Then must compromise. You must have a give and take relationship to have a smooth sailing marriage. If you think that this small thing is not worth fighting for them just let it be.

• India
20 Jan 07
My husband and me not irritate each other. Sometimes, my husband and i were fight. But i like the fight.

• United States
20 Jan 07
Well, first of all, every couple has their arguments. This doesn't mean you are incompatible...it means you are human and that you are normal! :) Don't worry. Little arguments here and there are inevitable, you can't really avoid every single little fight. I think that if you guys really talk to each other more and listen to the other person and not raise your voices at each other, it really helps when you are discussing these types of things. Just know that if you love each other, you guys will work things out! Best wishes to you! :)

•
19 Jan 07
It is always said that love and hate are very close emotions. If you didn't have very strong feelings for your husband then you would probably never argue, so I would say the arguments you keep having are a sign that you are in love. It sounds like a very stupid theory doesnt it, I though so too when someone first said it to me, but if you think about it logically, if someone is insignificant to you and you are indifferent to them, then you are indifferent to everything they do. Therefore, I would say that you and your husband are in love with each other. It may just be that deep down you argue with each other to get attention from each other, maybe try being more attentive towards each other and see if you begin to argue less.