The Tv show the View

United States
December 28, 2006 8:14am CST
Do you think Rosie should stay on the view? She has attacked kelly of the Regis and Kelly show and Donald Trump. I think she should be replaced with a nicer person that is not so wanting to make a statment that everything is against Gays.
7 responses


• United States
31 Dec 06
That is exactly the reason why I like her she is not the least bit snooty. Also she may be gay but she seems to be good mother (and father??) to her adopted children.

• United States
2 Jan 07
I agree that is why I like her. It is good to have lots of points of views.

• United States
31 Dec 06
I didn't like her show but I do like her on the View. She is the only reason I watch it, she calls them like she sees them and I find that refreshing.

• United States
31 Dec 06
and that is why I loved her till she now it seems she just looks for a reason to start a fight. I am all for calling someone on what they have done.

• Lampe, Missouri
29 Dec 06
soeey don't watch that show. have a time or two a long while ago but sure sounds like she may be just like simo off of american ideal

• United States
29 Dec 06
She has had her own show and magazine was a stand up comic for years. She is gay and turns everythihng into gay bashing.

• United States
28 Dec 06
I use to like Rosie when she had her own show. Ironic that the press gave her the name way back then, 'The Queen of Nice'. I don't know what her problem is. Don't forget she also attacked Star Jones (not that I was a big fan of hers) which I thought was uncalled for. She's out of control.

• United States
28 Dec 06
I forgot she attacked star. I used to watch the view everyday now I seldom watch it because of Rosie


• United States
3 Jan 07
Rosie stinks! She runs her mouth to much about stuff. This thing with Keey really upset my cart. Anybody could have responed to Clay like she did. I don't think it would have mattered who put their hand over her mouth she would have siad the same thing. I know I would. She had no right to even say that about Clay being gay, he n=might well be, acts like it but he's never came out and said he was as far as I know.

• United States
2 Jan 07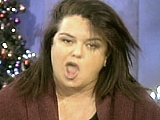 I think the show is 100 times better since she joined. So she talked trash about someone and she spoke her mind about something she thought Kelly did wrong. They worked it out. The whole trump thing is stupid. I saw an interview when he called her a fat cow. That is way more wrong then her making fun of his hair. The whole asian thing was a mistake I believ that.