Is Saddam's punishment ethical?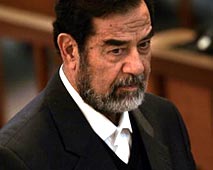 United States
December 28, 2006 6:21pm CST
Saddam has been condemned to be hung before this coming Sunday. Do you think this is right?
4 responses

• Mexico
31 Dec 06
yes killing a person with such huge crimes is justified. but this act also reflects dictatorship of America over the rest of the world. It attacked Iraq just because of its vast oil reserves and thus claimed to punish Saddam. It almost destroy the whole of the country though. Now is that humanitarian ?

• United States
31 Dec 06
America did not invade because of their oil. If we needed oil that bad then we would get it from our reserves and from Alaska. Since this "War On Terrorism" started our gas prices have gone way up here in the U.S. Our war debt is HUGE and we are losing money like crazy. Clearly we didn't do it for the oil!!!

•
29 Dec 06
YES YES i think they should kill him he deserves every minute of it from what he done to my sister's boyfriend's dad!!

• Italy
29 Dec 06
no i don't think capital punishment is ethical in any way. i think tha nobody can decide to kill someone else also in the name of law.

• United States
29 Dec 06
Yes. He has killed many people and tortured them. he is a evil man who deserves this punishment. Let God deal with him now.