is laptop is better than personal computer?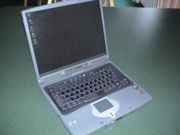 India
December 29, 2006 2:47am CST
i want to purchase laptop or not,i want to know about your views. is laptop is beeter than your personal computer....i am in confusion.cost of laptop is also high i dont want to invest lot of money.if i purchase which colour is better?
4 responses

• India
14 Jun 07
hey dude, always look for your comfort. These gadjets are not for show off or just tp, buy them if u really need them as per ur needs. I c a loto f difference in laptop and computer. One buys a computer if he isnt going places, and has a office so tht all work could be carried out frm one place. ANd one buys a laptop if he is goin places, and needs it too... however a pendrive now a days is more handy i guess! but its ur choice...always buy things as per ur needs!

• Australia
10 Jan 07
Depends on your personal circumstances indisiani..... I travel constantly with my work so a laptop is the best option for me. It's a pain at all the international airport security checkpoints as I have to remove the laptop everytime from its bag but it allows me to work from pretty much anywhere. A good laptop will give you pretty much the same features as a desktop but obviously be portable. If you are looking for a fast and powerful machine to play games etc go for a desktop computer. As for colour choices? All comes down to what you like, it's what's inside that counts!

• United States
10 Jan 07
I love my laptop I would be lost without it. We had a personal computer for years, and a couple of years ago we got a laptop and that was so much better. I could take it where ever and it is so nice. I would recomend getting one if you have not already. And you can buy skins for your laptop in any color, or any desing. They have them in sports teams, cartoons, and anything else you can think of.