need ideas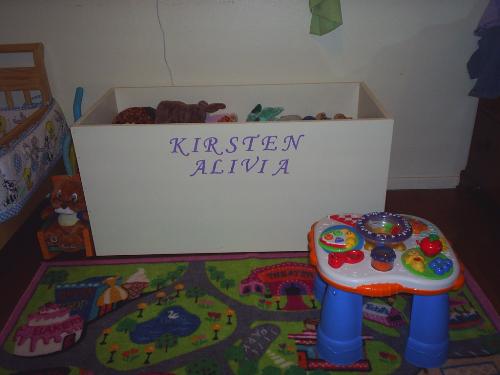 United States
December 29, 2006 7:02pm CST
anyone have any ideas of what I could draw and paint on this toy box?
2 responses

• United States
30 Dec 06
How about painting some blocks on it with the letters of her name in each block? OR, you could buy some of that chalkboard paint and paint her a little chalk board on the front of her toy box...get some chalk and let her draw and doodle to her hearts content!:) Let us know what you decide, I'd love to see the finished product!

• United States
5 Jan 07
lol..her name is already on there and if she was a little older that chalk idea would be great! at the moment all she'll do is eat the chalk..lol I'm leaning towards carousel horses as my mother just sent me a carousel horse lamp for her room.

• Australia
30 Dec 06
You could always put a circus theme. Most children don't grow out of circuses until they grow out of playing with toys. A circus theme is also for both boys and girls. Happy painting.