Saddam Hussain's Execution, was it the right timing?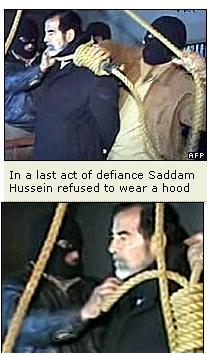 Pakistan
December 30, 2006 9:04am CST
As the muslims from all over the world head towards their Hajj pilgrimage, to perform the sacred activities of Haj, is it just a coincidence that hanging of Saddam occurs at the same day?Was it appropriate to coincide the two events by such closeness, by hanging Saddam on the same day as Hajj?Hajj is highly revered by the muslims all over the world, it certainly leaves a bad taste in the mouth to have this "hanging" been performed on the same day as Haj, and the entire footage being aired on TV! A terrorist or whatever, i think it was not appropriate to coincide such a venerated event of Muslims with this death penalty that has been the focus of attention of the entire world, and COULD RESULT IN DISRUPTION OF PEACE BY ANGRY MOBS who were not in favour of this. The occasion of HAjj deserved more respect from the world community, and deserved to be held while there was peace in the world over. or atleast new events that could hinder the peace process shouldn't have been conducted during Hajj days. As long as justice is brought to the world, i am in favour of it, but it's all about the timing, that i'm not so happy about. If it had been delayed for so long, i ask, what harm could have been brought if it were delayed just one more week or so?
1 response

• India
30 Dec 06
It is not the correct time.

• Pakistan
30 Dec 06
Thanx for sharing your view. But friends, this is a serious and debatable topic, so i'd really appreciate if you ppl participated and gave in your views as to why you think it was inappropriate or it wasn't. reasons for favour or support are important friends