he is not dead!!!i'm sure!!! i can bet!!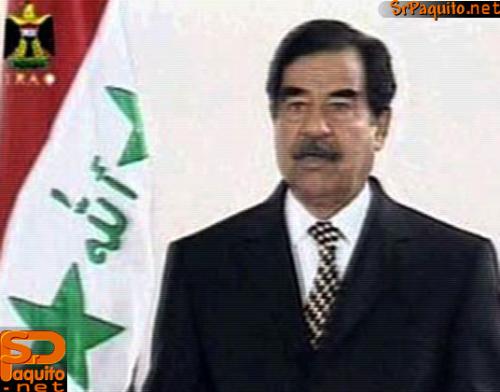 Romania
December 30, 2006 3:27pm CST
SADAM HUSSEIN IS NOT DEAD!!!it was all made up for the americans and the rest of the nationalities leave him alone...he is not dead!!!i am sure!!!why dident they show on tv how he was hanged up????why?i am from romania..and when our presedent of the country was murdered by our romanian people,they show all the scene on tv!!!every single second!!from the time that they catch him and her whife to the time that the romanian police interogate them,till the moment they shoot them and then put them "3 meters under the grownd"!!!why dident they just show on tv how they killed sadam?????its not fair!!!i dont think he was killed!!! what do you think?
3 responses

• United States
30 Dec 06
Let's put it this way, is there any feasible reason that they wouldn't have killed him? No. That is a pretty strong indicator that the Iraqi people gave him the swift justice they decided to give him.

• United States
30 Dec 06
I'm sorry your president was treated so badly and then murdered. As for putting Sadam's hanging on tv...in the US we don't watch that kind of thing. I'm not sure why...the movies and sometimes the tv shows can be pretty bad.

• United States
30 Dec 06
it was recorded and it u search the internet u will see video and pictures of it all day long.. enjoy! :)