Just for fun: My bunny vs. Nintendo Wii

Germany
December 30, 2006 6:14pm CST
To bite or not to bite... http://amak.gomen.org/bunny01/01.jpg Well, it smells good... http://amak.gomen.org/bunny01/02.jpg Sooo... NO REMORSE!!! http://amak.gomen.org/bunny01/03.jpg :-) Please post your bunny fotos here! Happy New Year 2007 everybody!!!
2 responses

• United States
31 Dec 06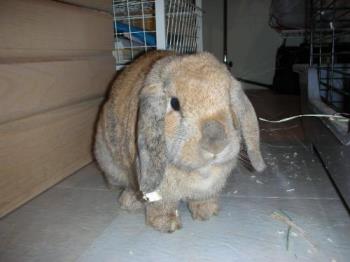 Those are some cute pics! Your bunny looks just like my Floppy.;) That's one of the first photos of her, right after I found her. She's a cutie. That cage she's next to was only used for a short time after I found her. Now she's in a huge puppy pen in her own room. I also have a 10 year old rabbit, Sunny. He used to destroy a bunch of things. Not so much anymore. I have photos of him chewing apart wicker baskets. He used to destroy those in a matter of minutes. Now I gave him one and he's had it for weeks, mostly it's still intact. But Floppy isn't a chewer like him and her basket is completely intact.

• Germany
31 Dec 06
Sweet! Your Fluffy looks very cute. :-) How old is she? My bunny's name is Dusia (russian name), she is about 4 months old. She sleeps in a big cage, but only for sleeping. The cage is usually open, so she has her freedom to move wherever she wants to. However we (my wife and I) made some barriers in the room so she can't go to some places we think are dangerous for her. Like power cables and so on. She like to chew books, old magazines and carton packages. I think she can somehow understand now from my voice if it's ok to chew that thing she want to chew or not, so we don't need to take away something we don't want she to chew. We just need so say her something in this "don't" voice. It's very handy and saved us a lot of good books. :-) It seems that your Sunny is a very cute and active. :-) 10 years is pretty much for a rabbit. He probably has a very good life with you. :-) Can you please post this foto you spoke about? With him chewing his basket? I will also post some new fotos of Dusia tomorrow (now I must go to the New Year party). Happy New Year to you, Floppy and Sunny! :-)

• United States
1 Jan 07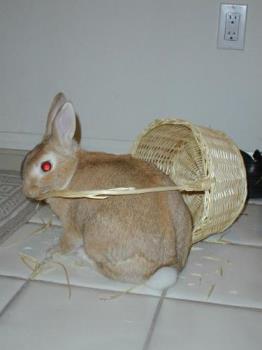 I'm not sure how old Floppy is, since I found her. At first, I thought she was only a year old or less, because her owners dumped her outside when they moved, and had only lived where they were for a year or so. But then, when I took her in to be spayed, she had already been spayed. So she probably was adopted from a shelter. So who knows how long her first owners had her. But she looks and acts young, so probably under 2 years. Below is a photo of Sunny when he was about 4 or 5 years old. Notice the pieces of basket on the floor. He loves ruining baskets and shoes! Once he ruined my concert shoes the night of a concert and I had to wear them all chewed up. It was bad! But I love him anyway, he's a cutie. Both of my rabbits have puppy pens that they stay in when they aren't supervised. About 16 square feet of space, so not bad. As Sunny's gotten older, he's getting a bit lazy about his litter box now. But thankfully, he still almost always will go to it to pee. I just find poops elsewhere sometimes. Hopefully he's not too old to introduce to Floppy, I'd love it if they could live together.

• Germany
1 Jan 07
:-) Nice foto and some nice stories, thanks! Sunny The Basket Chewer. :-D Here 2 new fotos of Dusia, shoot just about 10 minutes ago. I don't know how to upload fotos for my comment, so here are direct links: Dusia The Guitar Player: http://amak.gomen.org/bunny01/05.jpg http://amak.gomen.org/bunny01/04.jpg I will upload some more later, must go now. :-)


• United States
1 Jan 07
Haha, that's funny. My sister used to have a lop-eared rabbit as a pet, but she gave it away when she became a teenager and realized she was too cool to care about anything anymore. The rabbit stank and she never took care of it (so my mom ended up doing it all) but she used to like it.