love and hate....wut's the difference?!?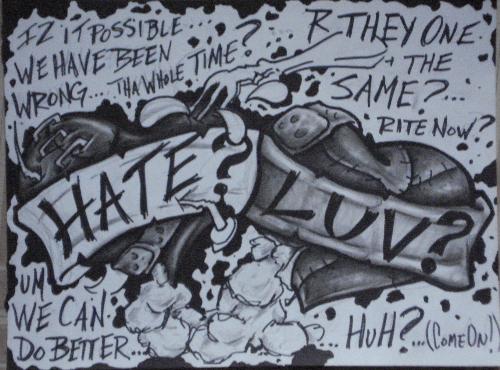 Canada
December 30, 2006 8:19pm CST
Please...I would like to hear your thoughts on this..... How are they different and how have they perhaps become reflections of one another?...Wat do we as humans "DO" about it all?
2 responses


• India
6 Jan 07
Both are intense feelings... Both are equally strong emotions We shouldn't waste a strong emotion like "hate" over someone. Hate someone only if that person truly deserves to be hated! But personally I don't think anyone will be worth of being hated because if that person is really worth it he/she won't do anything in the first place to deserve hate...but incase the person has done somethign it only means he doesn't deserve your emotions ur feelings be it hate or Love. Love is also meant for special people and should be given to special ones and not wasted over someone who is capable of hurting you.