An 11 year old killed..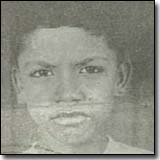 India
December 30, 2006 11:20pm CST
this happened in my neighborhood. arvind, a 11 year old boy studying in class 6 was found missing 3days ago.his parents got a call from kidnappers who demanded 5 lacs in ransom.But the info somehow went to police and the police came investigating. the next day the child's dead body was found among the bushes near his house.A day later the police narrowed down and caught the murderers.can you imagine what happened? the murderers turned out to be 2 students studying 10th class in the same school and a school drop out. one of them was Arvind's neighbor. All of them were under eighteen. they kidnapped him for money which they wanted for buying cell phones and celebrating new year.this incident has created a shock wave in the city.Can u suggest some ways to handle such situation?
2 responses

• United States
31 Dec 06
I don't know if I would have given in to the ransom money. You are dealing with criminals and how do you know they'll follow through with the deal. I would have gone to the police no matter what. They are more equipped to deal with these kind of situations. I know they have people who specialize in this. It's very sad what happened to that boy. I hope his family will be able to get through this.