The Oceans

United States
December 31, 2006 10:19pm CST
I love the ocean and large masses of water, I.E. Lakes, Rivers etc. They bring me relaation, travel and I like their mystery. What do they do for you?
2 responses

• United States
7 Jan 07
There is nothing more awesome and powerful as the ocean. It is filled with so much life. The waves can be small and calm or enormous and threatening. It is almost like the ocean IS me as I am filled with life and can be calm or threatening.

• United States
7 Jan 07
You are right is is very mysterious I think that is what makes anything attracting to a person. The mytery.

• United States
1 Jan 07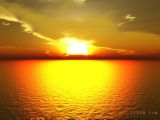 I personally can sit on the beach for hours at a time and listen to the waves crashing against the shoreline and the rocks. The awesome power of it all. Or just sit in a boat or on the shore with a pole in my hand catching fish or nothing at all as the waters lick the shoreline.