Is CHESS on track to be the next olympic sport?

Australia
January 1, 2007 4:03am CST
It was introduced to the Asia Games in Doha.... Is this the beginning? If it is I wonder if they will ever find a drug cheat in Chess? Imagine that honour! "Man has Gold Medal revoked for testing positive to performance enhancing drugs. Chess community horrified!" lol
1 response

• United States
17 Jul 08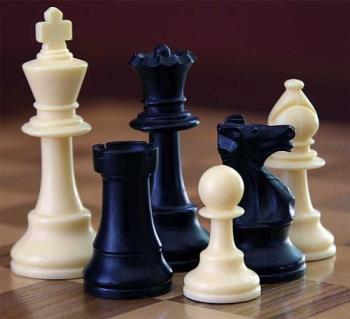 There are five sports that are up for inclusion for the Olympic games (chess not being one of them)... they are. [b]1. Golf 2. Rugby 3. Roller Sports 4. Karate 5. Squash[/b]So if Chess is to be included it is not going to be for a long while unfortunately. I think it would be really cool to watch speed chess. People thought that Curling in the Winter Olympics was going to be a dud and was one of the most watched sports. Thanks Zelo


• Australia
18 Jul 08
Roller Sports? This is the only one out of the five that you have mentioned that I do not know anything about it seems. Squash and Rugby makes a lot of sense I feel and so does Karate as Tae Kwon Do and Judo have been arounbd for a while at these events. Golf I am not so sure on though! Thanks for responding.

• United States
18 Jul 08
Roller sports would be like roller blading. Golf -- it has been around for a long time and is played all around the world. There are tournaments that are the US vs. World so it makes sense that the world gets a venue to see golf on the most grand of venues... the Olympic games. Now whether it would be a team game or an individual or... I have no idea. Rugby -- not played very much at all in America but VERY popular down under and I do believe they play in England as well. I don't know about other countries. If some myLotters can chime in on this one that would be great! Karate -- although karate used to be the sport of the Japanese and was not allowed outside the country, it is now all around the world thanks to Bruce Lee and there are karate studios and exibitions all over the US. This should be a slam dunk to get into the Olympics. Squash -- uh... I don't think so. I know of no competitive squash competitions anywhere and although it has been around for a LONG time it is just not a popular game. If you are going to introduce that then what about raquetball, handball, jai alai.... Thanks Zelo


• Australia
20 Jul 08
Thanks for the clarifications! I am Australian myself so agree with you on the Rugby front..... I am still not convinced on Golf though as it is such a professional game today and heavily money based. Karate yes; should be a shoe in. And I don't disagree on squash either actually as it IS a highly competitive sport that I do not see as overly different from badminton for example.