105 National flag question

United States
January 2, 2007 10:27am CST
Please tell me what country you are from, and what colors your flag is. I will be reading and rating every single response only. Thank you.
5 responses

• Ireland
2 Jan 07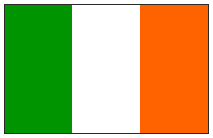 I am living in Ireland and our national flag consists of green, white and orange stripes. Green — signifies Irish Catholics and the republican cause. Orange - signifies Irish Protestants. White - represents the hope for peace between them.

• United States
2 Jan 07

Living in the United States our flag is red, white, and blue. In 1960, a star was added, representing Hawaii, bringing the total number of stars to 50. There are thirteen stripes representing the thirteen original colonies. Which is what our country sprung from.


• United States
2 Jan 07
My Country is USA. RED WHITE and BLUE.

• United States
2 Jan 07
You bet! It is red,white and blue for the United States Of America!