geenday n U2

India
January 2, 2007 12:23pm CST
greenday and u2 came up wid the project called "saints are coming" its amazing..the power of music can actually move anything..thnx GREENDAY n U2..wish to hear more from u..cant forget the live8 concert too.. good job
2 responses

• Philippines
3 Jan 07
I've never seen this video yet. Ive better check it in MTV soon or in youtube if possible.

• India
3 Jan 07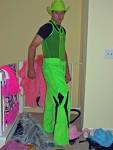 Their charity collabortation with U2 (The Saints Are Coming) to help raise money for musical instruments lost in Hurricane Katrina, and teaming with the Natural Resources Defense Council for the "Move America Beyond Oil"

• India
3 Jan 07
It's been more than a year since the New Orleans Saints played a game in the Louisiana Superdome, their home for nearly 30 NFL seasons. After Hurricane Katrina, the team was forced to play all its games on the road. When the Saints reopen the dome with a game against the Atlanta Falcons, they'll receive a proper homecoming tribute via two of the biggest rock bands on the planet.