How do I get my story published?

4 responses

• United States
3 Jan 07
First you get an agent or an editor. You have them look over what you've written and make corrections and suggestions. Then you comb the market for publications that feature the genre you've written. You write up a cover letter and summary sheet, and you sent it in - with all the correct submission info. Different publications have different submission guidelines.

• United States
3 Jan 07
Speaking as a published writer, it's the best way to go. You don't get scammed, you know there's a market available, you don't lose any money, and you reach your target audience immediately. Plus there's someone with the right technical background to polish your work. My best friend is an English Lit major with a minor in Etymology. She does all my editing for me.

•
4 Jan 07
Thank-you so much for your help and opinions. I really have no idea what to do about letting people know I've written. I can see I'm going to have to consider all the options carefully, problem is I have no spare cash to do it. What kind of writing do you do, and why?

• United States
4 Jan 07
I dont know how you do it there. But in my country, one has to go to a publisher with a good edited copy and let him read it first. If he likes it he will buy it (with your rights reserved of course) and publish it. But the hitch is, you have to put a lot of effort to sell it to book shops. If the publisher has a registered bookshop chain, he will only put it there. Other bookshops, you have to handle. Anyway, congrats on your effort. Post it somewhere if you can so that we can download and read it. Best of luck to you.

•
4 Jan 07
When my little dragons have finished their adventure I will be so pleased with them you'll probably have a job to stop me rabbiting on about how proud I am regardless of wheter anyone wants to read it. I can blog on myspace so when it's done I'll pop excerts on there in the hope that people find it entertaining. Thanks for your advice, and support with this, it is really appreciated.

• Singapore
3 Jan 07
How about getting posted onto a blog site yea , there will be a lot people viewing if your story is a good one yea

• United States
3 Jan 07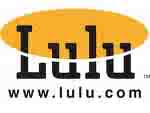 My daughter has written a book and is close to being published by Lulu.com which is a self publishing site. They offer distribution and they are mainly a print on demand company. She is pleased with their services since they are alot cheaper than other self publishing places.