What did you get on Christmas?

Romania
January 4, 2007 10:58am CST
I received a new computer and a few clothes .. :D what did you get?
1 response

• India
10 Jan 07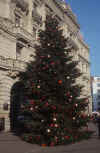 i want to tell u some nice tips Many Christmas cards make great ornaments. Cut out various scenes and decorate with raffia, glitter, buttons, etc. You can make an ornament with a single card or glue two cards back-to-back. Cut into different shapes for variety. Try making some aluminum pie tin ornaments from meat pie or dessert pie tins. Cut a Christmas card to fit the inside of the tin. Glue the card into the center. Punch a hole on top and thread some string through to hang on the tree. (I made these ornaments when I was little and still have one that is 30 years old!) Some cards make beautiful pictures when framed. I currently have a couple framed cards hanging in my house. No one realizes that they are recycled Christmas cards.