MicroChipping Your Pet??


United States
9 responses


• United States
20 Jan 07
Gabs8513, that little guy is a cutie pie!

• United States
12 Jan 07
they dont even know, i have a mini dauchsund and it didnt even affect him


•
6 Jan 07
My dog is micro-chipped. She didn't mind at all and she's a small dog. I think it's pretty important to do it these days when pets don't have to be registered. Also since people now steal pedigree dogs to sell to others, i've heard quite a few of these stories.

• United States
5 Jan 07
I am going to microchip my cat. She is only 5 months old now. I am going to do it next month.

• Canada
5 Jan 07
I don't have a pet myself, but my friend has done this and he feels way more secure with it. Its definately a good idea as it doesn't even hurt the dog.

• United States
21 Jan 07
I just had my puppy neutered and when I took him in for the procedure, they ask me if I wanted to have him microchiped while he was asleep. I ask how much it cost and she said $40. I opted to not do it. I keep him in the house all the time. When he goes out, I am with him and have him on a lease. I just could not see paying that much to have it done. A tag for his collar is much cheaper.

• United States
21 Jan 07
The vet told me that the chip just goes under the skin.

• United States
21 Jan 07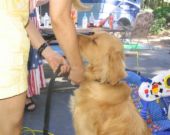 We thought about getting our dog microchipped. I think that it is a great idea when you have an animal. My only concern is putting her through the proceedure to have it done. I dont want to see her in pain. I do think that with it there is always a better chance in getting her returned.