I was curious as to how many other MYLot users have iguanas as pets.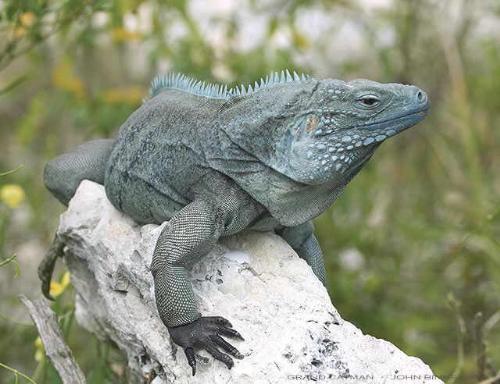 United States
7 responses

• United States
8 Jan 07
I used to have an iguana that I got in a similar situation. The previous owner didn't know how to take care of it and the poor thing was starting to lose its fingers due to lack of calcium. I nursed it back to health and it became a very friendly, very healthy iguana who lived for many years. I fed him a mixture of vegetables and fruits supplemented with calcium. I never fed him anything he wasn't supposed to eat (i've heard of some people feeding them mac and cheese and things like that.) I would usually buy frozen asparagus stirfry -- the asparagus tips are a good source of protein. I supplemented this with frozen mixed fruit -- honeydew, cantaloupe, watermelon, peaches. He thrived on this mixture. every so often, I would let him eat iguana food for the added protein. Iguanas can be really fun pets -- good luck to you!

• United States
9 Jan 07
Thanks. We've had her for a while now and I was looking for different ideas. I'll have to try the frozen fruit thing for her! I'll bet she would love it because she loves strawberries. Although she's a real freak over carrots. Sometimes she will snub all other food until we bring her carrots and she's had times when she's eaten nothing but the carrots out of the mix we put down. She's even gone as far as to start to turn a little orange from it on the tips of her back! lol Ours too lost her fingers, but a close friend and rescuer says that this is not unusual with them when people let them roam around the house. They tend to get their nails caught in the carpets and will actually pull them until they break off. So it's not always necessarily a poor nutrition or abuse thing I guess. Although in your case it sounds like you could tell. I'm amazed by her. She's so awesome, although a bit moody lately because she's shedding. I want her to get back to her friendly ways again.

• United States
11 Jan 07
Thanks. I tend to be one of those people that has a heart bigger than it should be! lol Iguanas are so kewl though.

• United States
18 Jan 07
i have two iguanas. female is 6 years old but very small for her age. She has crippled front "hand" from a bad fall years ago. male is 3 years old and almost as big as her. they will only eat fresh (frozen) fruit/vegetables. They both love leafy greens.

• United States
18 Jan 07
Thanks! I never thought about keeping bags of frozen around for when I don't have the time to run to the store for fresh veggies!!!! THIS is why I asked the question... it was sort of like we were in a rut, although my sweet Olivia is the one that put us there because she seems to prefer her fresh carrots! LOL Now I have some options and ideas what all else to try. Yesterday she had a big plate of carrots, of course, and a half an apple. She loved the apple and of course her carrots! I did find out that she will NOT eat canned carrots. One day that was all I had so I drained them and put them in her plate. I swear, if anyone tells you iguanas don't have personalities they're crazy because she gave me a look like "you really expect me to eat this?" LOL

•
9 Jan 07
I had a pet banana, but my friends iguana came along and ate it!! :)

• United States
11 Jan 07
Yeah, but those banana's are slippery buggers! lol

• United States
5 Jan 07
I don't have one now but I used to have one. We may get one again but not right away. We fed ours kale,mustard greens,collard green,dandelion greens, and escarole. Also apples and bananas.


• Australia
16 Feb 07
I don`t have one but think they would make for such an amazing pet. our most exotic per is a jungle python " nina" she is simply awesome .But would love to one day own an iguana as a pet

• Indonesia
5 Jan 07
Sorry, i havent, but maybe you can feed with insect