Hi Guys! Did you see girl's nasty toilet?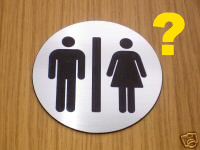 India
January 5, 2007 12:35am CST
A few weeks before, First time i saw girl's toilet accidently. What a nasty place? Very ugly. Outside, they are looking good, but inside very nasty and unclean. Did you have that same experience, anybody? The world first un cleanable place is girl's toilet. Guys, Avoid to see that...
1 response