amazing facts!!!!!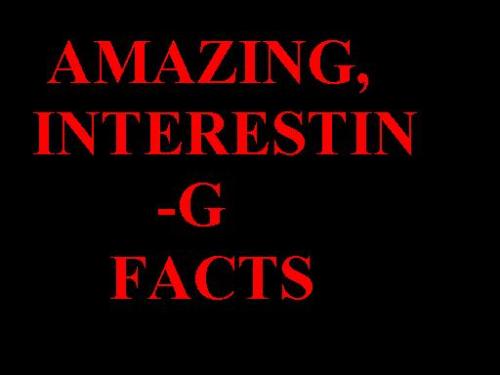 India
January 5, 2007 5:41am CST
:: If you keep a gold fish in dark room, it will eventually turn white. :: Boys hair grow faster than girls hair. :: Right handed people live, on average, nine years longer than left handed people do. :: It is possible to see stars during day from the bottom of a deep well. :: Amongst Arabs there are more than one thousand words for a camel. :: John F Kennedy, President of USA used to read four newspapers in 20 minutes. :: The tongue is the only muscle in the body which is attached at one end only. :: Nylon was first produced in the USA in 1938. It was made by scientists from New York & London & was named after these cities (NYLON). :: The human mouth produces about 1.5 liters of Saliva in one day. :: We breathe more than 23,000 times a day. :: Our heart beats more than 1 million times a day. :: When infants cry, tears are not produced. Just leave a comment if you found these facts amazing or not. Also, if you have some amazing facts to share, do it here!
6 responses

• United States
14 Jun 08
Hey this is cool and thanks for sharing . I am kinda curious about the gold fish . I have one and wanna go give it a try lol .


• Philippines
23 May 07
I wonder who paid people to find facts like these..

• India
22 Feb 07
gr8 to know these facts.. i feel so much more brilliant.. no but seriously the one with that well nd stars thing is too good...