First Tattoo?!

United States
9 responses


• Canada
4 Feb 07
My first tat was on my back. It was done by hand. It is a yin/yang.

• United States
4 Feb 07
My first tattoo was a heart dripping with honey and a bumble bee sitting on it with little purple floers around the heart. It sounds strange but it looks really neat, I get sooo many positive reactions. Various tattoo artists have fallen in love with this piece of art.

• India
30 Jan 07
i still don't have a tattoo but if i ever get one it will be a G clef just love that sign every time i see it! wish i knew who made it!!

• United States
29 Jan 07
I have a scorpion and the sign for "scorpio" on my back...I am a scorpio, and I love my sign, and I love my tattoo.


• Australia
29 Jan 07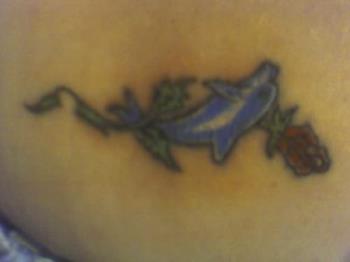 I have only one tattoo which I got last year. It is of a dolphin and a rose entwined because both have special places in my heart. It's on my hip and I thought about it for a long time before getting it done. I am really glad I did now though and might get another at some time.

• Canada
20 Jan 07
Mine was a dreamcatcher with a feather hanging down from it with the words Eternal Dreamer written above it. I got it on my shin.