Terrorists hold the advantage in cs_militia map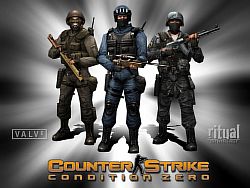 United States
January 6, 2007 3:55am CST
I have played this map for all my life and i can say for sure that the terrorists have a major advantage particularly if u r good in playin with snipers. share ur thoughts about other maps.
6 responses


• India
19 Mar 07
hey...its obvious t hv advantage over ct in da map...cuz they hv to watch over the hostage, thats it...ct have to get into the house..bein cautious... all the hostage maps have such a situation!! but in bomb plant maps..its the other way around!!

• Romania
20 Jan 07
Of cpurse the terrorists have the advantage in cs_militia beacause they are in a house with the hostages. They have to be prepared to answer to the counter terrorist who will do anything to rescue the hostages. In house you have the advantage to use a sniper or to make surprises to the counter terrorist who enter the house. i like to play a terrorist on that map because i like to use the sniper and to stay on top of the roof. It's really a great place to kill the counte terrorist who came through the tunnerl from their base.

• United States
20 Jan 07
Yes the roof is indeed what i meant where u can just aim at the entrance of the ct tunnel! Terrorists surely have an advantage is the militia map!

• India
20 Jan 07
de_inferno is definitely in favor for the counter terrorist. I mean the elevation is just right for headshots. Ct's hav a wide range of areas to shoot from whereas the terrorists have only the mid , the house and the front wich doesnt leave much of a choice :)

• United States
20 Jan 07
wow i have not checked that map till now. Let me check that out and explore what u r saying!

• United States
18 Jan 07
u r right... in militia map terrorist have their domination.. but in general in all bomb maps such as dust, cabbble,prodigy,nuke.... terrorist have their domination but in all hostage rescue maps cts have their domination... thiz was very well proved by many players... and i agree tht almost in all maps terrorist have their domination.......

• United States
20 Jan 07
I have to agree with you. I myself has felt this many a times when I was playing as a terrorist. But one thing is that the geography of the map militia is such that the terrorists hold a slight but definite advantage as u can easily aim at the ct tunnel with a sniper and u get a shot at the ct before they get. So if u r a good sniper player then u draw the first blood! :)

•
21 Mar 07
There was another really one-sided map which was on 1.6.. I cant remember the name now but the Terrors started in these interrogation rooms and CTs started by what seemed like an airbase with cliffs and a bridge.. very open area.. the Ts would go through a garage to get outside where most of the action happens.. used to be a lot of snipers... oh and there was a sewer system as well.. any1 know the name?

• Brazil
14 Feb 07
I agree with you, terrorist cab be camping with sniper only wait the counter trrorist pass. When they pass shot and kill :D Veryyy easy for terrorist but has another side of map that you can go in the subway and kill they back. :D