The 14-year-old, the youngest person to sail across the Atlantic single-handed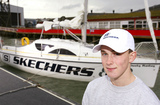 United States
January 6, 2007 6:33pm CST
He is not old enough to drive a car or buy a drink in a bar. It will be two years before he can get married in the UK and four before he can vote. Michael Perham, however, is on the verge of making history: at 14, he is within days of becoming the youngest person to sail across the Atlantic single-handed. Whould you let your teenager to do it?
10 responses


• United States
7 Jan 07
Great respond...I did not think about it..

• India
14 Feb 07
Yes, definitely a great achievement and that too at such an young age and he should get all the encouragement and support by peopel as sometimes these talents will be wasted without getting supports from his own people isn't it? these day's younger age people do come up with many achievements as they are given enough opportunities and also required facilities as well...isn't it?

• United States
7 Jan 07
I think it's great that he can do it and just shows that kids are remarkable. Now that being said would I let my child do that? No way on this green earth would I. Sorry I'd be too worried and it wouldn't matter if he was 14 or 17 or 107, I'd still be scared but once he's 18 I wouldn't have a say in the matter. It is a very dangerous journey and anything can happen. I wish him luck in doing it and I hope he finishes. I just can't picture a parent allowing it.

• United States
7 Jan 07
I am with you. I would never let mine go...at 14



• United States
14 Feb 07
that sounds like something the parents would be proud of him for doing that, but i am sure they would be worry too, speicaly you talking about crossing the sea, who alot of people drown from, so i am sure he is happy when he accomplished it, good for him



• Poland
14 Jan 07
wow i he suceed it will be surely a great achievement especially that he is only 14 years old. Well i hope we can do it :)

• United States
14 Jan 07
good thinking.... (I just noticed that your name is korek222 and you have 222 posts at this respond, wow)

• United States
10 Jan 07
As long as there is no danger in the water, I don't see why not.