Pirates of the Carribean...fun movie, fun ride...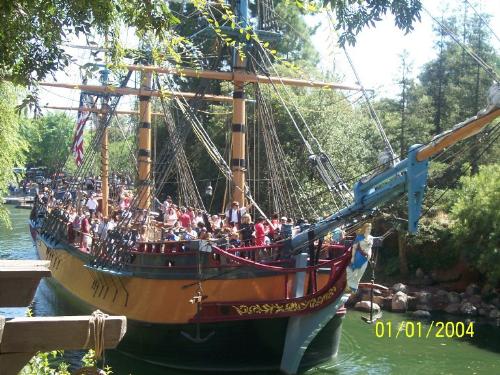 United States
January 6, 2007 7:58pm CST
I think that Pirates of the Carribean is a fun movie to watch and I am awaiting the third installment. The cast of stars that are in the movie (Johnny Depp, Orlando Bloom, and Keira Knightly), are fabulous. For those of you that like the movie, did you also like the ride? I have attached a photo of the ride at Disneyland, with a description of the great time that I had. Perhaps, several of you have not gone, because you think that Disneyland is not your thing, I hope to offer you a new prespective. Disney fans welcome.
2 responses

• United States
7 Jan 07
I think it was called Maids in Manhattan. Something cheesy like that. I wasted a good 7 bucks on that movie. I think Jennifer Lopez should be banned from making movies. Except for Selena, that was her only good movie. That was when she had her real body parts. :)

• United States
7 Jan 07
I was watching that movie with Jennifer Lopez, the one where she's a maid. I can't remember the name clearly at the moment but something about maids, and then after that movie finished, I went and snuck into Pirates of the Carribean. I thought it wouldn't be a fun movie since I'm not to into pirate movies (especially Peter Pan) but it turned out to be a really good movie. It was funny. I'm a disney fan. My favorite Disney movie is The Little Mermaid. That movie gets me all the time.

• United States
7 Jan 07
I am glad that you like Disney also, and The Little Mermaid is a favorite of mine too,it is a classic. And, honestly, the main reason I like Peter Pan is because of Tinkerbell, I am a tinkerbell fanatic...if I get a chance to post some photos soon, I will. And, it is good that you ended up liking Pirates of the Carribean...it is truly a fun movie.