Jonny depp v/s Tom cruise??who is d best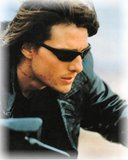 India
January 6, 2007 11:36pm CST
Jonny depp v/s Tom cruise??who is d best hey guys wat do u think ...........who is the best . According to me acting wise Jonny depp rocks and look wise Tom cruise..........................???wats ur choice.........??
2 responses

• Sweden
7 Jan 07
i always have this discussion with my boyfriend. he is pro johnny depp and i am pro tom cruise. i like tom cruise more since he is handsome and he does action films well. he is also good in romantic movies and even in movies where he portrays as a lawyer. he's a versatile actor and he is best in everything he do.

• United States
7 Jan 07
i like johnny depp better. he's hott in pirates of the caribbean movies and tom cruise doesnt really look that good to me. he is a good actor though. i like the movie war of the worlds. something like that. it was really good though.