Cloth diapers, which are your favorite?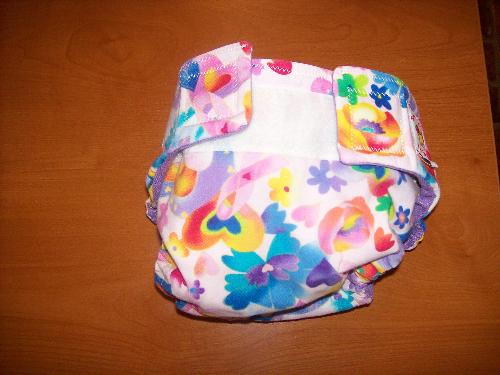 United States
5 responses

• United States
7 Jan 07
I still love old fashioned pre folds with a wool cover!!!!

• United States
7 Jan 07
I still haven't tried wool!

• United States
8 Jan 07
oh but you will soon!!! LOL Send me the measurements!


• United States
6 Mar 07
Oh, the Strawberries N Sunshine pic you posted is so cute! I got a late start on cloth diapering when my daughter was smaller, and went with Happy Heinys because they had SO many cute prints...unfortunately, they didn't work out so well for us, and I know I won't try them again when we have another baby. I've heard so many wonderful things about Fuzzi Bunz that I imagine I'll give them a try, although I'm not sure how much they have in the way of cute prints. I'm looking forward to the shopping, at any rate. :)

• United States
7 Apr 07
I actually haven't had any leakage problems with my Happy Heiny's prints. Could it be a build-up problem making yours leak?

• United States
31 May 07
HH for were horrible for us. They are not made for a thin thighed baby. If your baby has chunky thighs they work, but everytime my youngest pooped it went straight out the leg, and only while wearing and HH. FB's do rock! I never had a leak with those, but I STILL swear by the prefolds!!!

• Germany
19 Feb 07
Fairly new to the cloth diaper scene but so far love the prefolds. I have berry plush on order though which I am so excited about!

• United States
23 Mar 07
I love diapers by deb. She's part of the made by mama group. I think it's called deb's diapers and doodads. Just do a search on made by mama and you'll find her. She's a grandma that sews diapers. She is such a sweetie. I also have had strawberries n sunshine all in 2's (AI2's). Amy has the best All in 2's.

• United States
7 Mar 07
i love using my own. nothing more satisfying than making a cute cloth diaper for my lil ones bum and knowing it was mommy made with love. i don't go for the cute prints because they tend to leak more than the solid colors, tho i do have a couple of prints i have made for my lil guy. i also love flats and wool. i like the terry flats sold in europe not the birdseye flats here in the U.S.