Is single child concept accepted?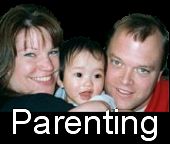 India
January 8, 2007 11:26pm CST
The trend of today is to have only one child, doesnt matter a boy or a girl. But I think that makes the child over pampered and arrogant as he/she feels that in any case the parents will never say no so the child becomes possessive. What do you suggest should there be two children or a single child?
3 responses

• United States
9 Jan 07
I don't like the concept, generally. I think there should be at least two children so that child 1 and child 2 both grow up more or less keeping each other in check. Personally, though, I want more than 2 children - maybe 3 or 4. Children can become pampered and arrogant no matter if they have siblings or not, though - it's all in how the parent raises the child. If they spoil them, refuse to punish them, whatever, they end up with a spoiled brat for a kid.

• India
10 Jan 07
yes I agree with you. A child should not have to grow up alone especially when there are no other children the same age around. But if parents spoil their children or child, the siblings dont matter at all. At those times I feel the parents need more correcting than the children as they just copy what they see the adults around them doing. So the best way to raise a child is to give them parents who are worth following and good role models both inside and outside the home

• Murfreesboro, Tennessee
18 Jan 07
I've known plenty of spoiled and pampered children that had siblings. And only children who were neither spoiled nor pampered. It really does just come down to parenting. I don't think there's a "perfect family size". Families are made of of individuals, and thus each family will be different based upon the individuals in it. Furthermore, you completely ignored the possibility of more than two children, listing only one or two.

• United States
9 Jan 07
A kid is only going to be spoiled and pampered if the parent actually spoils them. It has nothing to do with how many kids a couple has. I know plenty of kids who have siblings who are spoiled and arrogant and expect the parents not to say no. If parents give in to all their kids demands, the problem is the parents and they certainly shouldn't have *more* kids if they can't even discipline and handle one.