Nixon and Elvis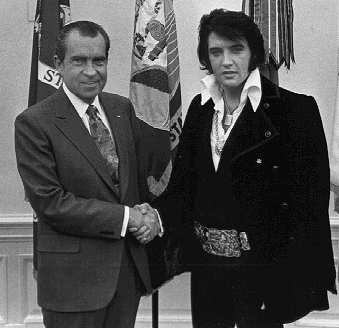 United States
January 9, 2007 8:05am CST
In the early 70's there was a famous meeting between President Nixon and Elvis Presley. Nixon very much hoped that meeting Elvis would help his image amoung young people. Today, we have another President, George W. Bush, with sagging popularity levels. Is there any Rock and Roll star or other celebraty George W. Bush could meet to possibly enhance his popularity? If not, who would you like to see him meet anyway?
4 responses

• Australia
10 Jan 07
Well even Elvis's hand shake didn't help Nixon in the end really... he was still ousted! Bush may end up the same way, and if he does, does this mean when the USA is assaulted the next time it will turn the other cheek?? Who will the people blame then... the ones who didn't do anything?? A very fine line...but it only leads one way!

• United States
18 Jan 07
You just summed up my sentiments exactly! Bush has had a lot of things to deal with in his terms so far; we may not agree with some of his decisions, but I am confident that he has tried to do what is best for the American people and the world. He does not have an evil bone in his body. And everyone needs to remember that Bush does not make decisions unilaterally. First of all, he was elected and then re-elected. Second, he cannot just randomly decide to start a war... Congress was obviously behind his decisions. This is NOT a country where one single man has that much power. People seem to forget that. So my point is this: I wonder what the Democrats would have done differently after 9/11? And although Bush was wrong about the weapons of mass destruction in Iraq, Saddam is gone, and hopefully some kind of peaceful government will be established for those poor people. Let's all remember that no single man has that much power in the United States. Everybody needs to stop blaming Bush alone for every little thing. He is not that powerful.

• United States
18 Jan 07
"Everybody needs to stop blaming Bush alone for every little thing. He is not that powerful." Boy, ain't this the truth! The main critism I have concerning the war on terror is that the rules of engagement are too restrictive, but President Bush would have a difficult time even making that change on his own.

• United States
17 Jan 07
I can't even begin to imagine who would do it. Those celebrity types worry more about their celbrity than the politician's do about the polls....Maybe he could pay Paris Hilton & her chihuaua to party at the White House for one night. It would cost since that's how she makes most of her money but she could probably make Bush look smart by comparison if he doesn't say to much.

• United States
17 Jan 07
Ha, well I think almost most rock artists are so againt him and is policies that those who would meet him wouldn't be popular enough to make an impact. I'd like him to meet the band Green Day. They are a punk rock band, but their perspectives are backed by truth and real emotion, and they don't shove it down people's throats...atleast intentionally. It sort of makes it's way down there on it's own. No matter what music you're into, you should invest in the album "American Idiot"...read the lyrics...it's monumental.

• United States
18 Jan 07
With that title, democrats and republicans are both covered.

• United States
17 Jan 07
Nixon and Elvis were from a different time and people's thoughts were different. With this generation I don't really think Bush could be seen with anyone that would help him. He is getting enough attention just in a negative way. If anything, Bush would tarnish a celebrity if they were seen with him. I guess you can tell I am NOT a Bush fan. LOL