More money for defense?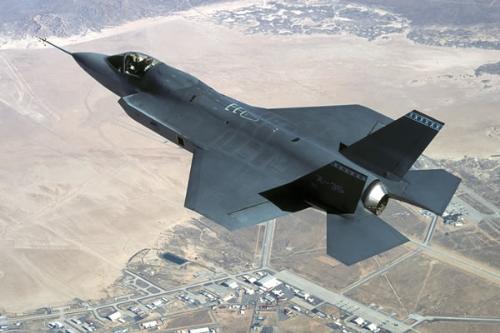 United States
10 responses

• United States
10 Jan 07
The money spent on defense is a necessary expenditure. There is nothing more valueable to us than protecting our interests at home and abroad. While I agree we already have naval and air superiority, most defense money is being spent on paying our troops, and imporvements on the ground.

• United States
10 Jan 07
I agree with Smith2028. Although I do not know much about AirFighter Jets, I know that the U.S. military budget is a necessity. If we don't maintain what we have a stay a step ahead, we will soon find ourselves in the position of not having air superiority. The defense budget is what keeps us a safe and free nation, and I think that the money is well spent. Let's stop spending money on health insurance for illegal immigrants to save money... But that's a different discussion!

• United States
10 Jan 07
Yes, I actually agree with both of you. I was playing devil's advocate, just a little bit. There are technological advancements being made in air defense and remote controled fighters that are making manned fighters unsafe to fly in the very near future. Turns out a human pilot can not hope to survive a fight with a part robot, part remote control fighter. They already have prototypes. The experimental air defense systems being developed are unbelievably accurate. Thus the F-35 could be one of the last manned jet fighters.

• Australia
12 Jan 07
Devils advocate??? That's not like you red!! rofl.... habituelo....I agree that laser or electro chared beams are the futuristic weapon, shame you didn't expand on your thoughts... the sci-fic. movies are what gives ideas for these advances... as the shows Flash Gordon (well before space travel) had critics belly laughing at the show, saying how ridiculous the thought was, "man going to the moon"!! Well some of them lived to see it happen!! Laser technology is only a question of when, not if!

• United States
12 Jan 07
Well, those are not my thoughts on the future of air combat. They are an update report of current research in that area. There really are prototype air defense weapons that for the most part don't miss,(uses lasers), and there really are robo-remote control aircraft existing in prototype. In military history I remember admirals being upset when the battleship was made obsolete by the airplane. Now, the manned airplane is being made obsolete by the drone. Weapons development is a never ending cycle.

• United States
12 Jan 07
......sorry, but i insist,,,all those new weapons aircraft are obsolete,i search much on the subject online and on tv documentary,,,they should use lazer shoots,,the can do it,,but they dont because lazyness and/or$$$$$$$ or bussines monopoly!! America would be a universe first power forever with those kind of defense weapons

• Philippines
9 Jan 07
The issues involved are more than what meets the eye. We can look at the issue from the point of view of a simple citizen living a simple life and from the view of the one who runs the country and responsible for the lives and property of the citizens who live both inside and outside the country. Considering all the rising increase of restlesness worldwide, I think the US must maintain it's superiority in air power and continue to upgrade it's capabilities which means more jets. Violence worlwide is getting worse and worse by the day. And there are times when the threat of violence is the best weapon to combat violence. America in her mission to maintain world peace must not put her guards down just because of the opinion of the few. Spendint the money elsewhere will not solve all the other problems either.

• United States
9 Jan 07
Certainly, a fair comment giving consideration to both sides of the situation. Thanks, for your thoughtfulness.

• Australia
10 Jan 07
I think manong is pretty much on the money as most times it is only the thought of damage inflicted which prevents action being taken, and even if all the woes of the world were to be cured... it would cure the pursuit of morons to rule the world or the best part of it anyway! Hell it isn't the sick and disadvantaged fighting each other!

• Australia
10 Jan 07
Damn, sorry red, that should read, ....it wouldN'T cure the pursuit of morons ......

• United States
15 Jan 07
We have to remember the fact that air superiority is one of the few things that we have managed to hold onto. We have to keep a steady army around for a deterance factor. I also remember hearing that while these new jets are more expensive to build, they cost less to maintain, so this might ultimately save money. The other issue is this idea that we can solve all of our civil problems by throwing money at them. People need to change before our society can change. I agree that scientific research would be a better use for some of the money, but I don't see civic reform as a good use. The government already has turned a lot of people into government dependents through their social programs.

• United States
15 Jan 07
I haven't often thought the big boys had their priorities mixed up when it came to money. Until we elect a president that is not all about war we will continue to spend loads of money on the Military and defense. Once we elect a middle of the road kind of guy you will see the spending shift to another useless program. A lot of our money is wasted on a lot more things than we could ever know. Yes it could go to many more other uses. If I was president it would go to scientist for cures, which I think are just as if not more important than a new toy for the military.

•
13 Jan 07
Just a thought .. if for just one year every country in the world spent nothing at all on national defense and all the money was spent on community based projects instead, I bet the world would be a much better place .. just think of the billion and billions of money being spent to improve housing, smarten up run down areas, improve schools, health service projects like new hospitals .. wouldn't it be fantastic .. All we have to do now is get all the countries to agree hahahah!!!

• Australia
13 Jan 07
AHH, that's better, how are habichuelo!!..yes, again I believe that ultimately the future weapons will be directed from satelite positions and leave no error in their distruction. Laser power !

• United States
11 Jan 07
they need to forget the bullets and start getting into lazer shoots!!!!

• India
11 Jan 07
this is applicable for USA but also for other country, I feel this money should be utilised for betterment of society and humanitey.