Ebay or Google Base?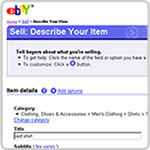 United States
3 responses

•
10 Apr 07
Personally I would stick with Ebay, it reaches a higher number of buyers and therefore increases your chances of selling for a profit.

• United States
10 Jan 07
I would stick with ebay. I love ebay!! I buy at least one thing every week from there. It has everything and has great prices!!! I have two kids that want everything, and three dogs, three cats and two fish that I buy treats and toys for, and my husband and myself for the stuff that we collect. I also buy things for other people in my family. Dvds are a big thing that we buy. Along with video games. Good luck on selling.

•
9 Jan 07
I would stick to ebay, just because it's probably got a bigger fan-base, and probably has more members -- it therefore will attract more buyers, right? Good luck selling!