Which is Sachin's Best Shot??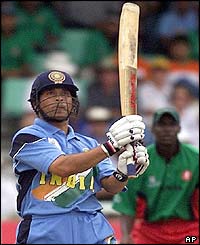 India
January 10, 2007 10:29am CST
The Maestro is the master of many cricketing shots.. But my favorite is his Six of Caddick's Ball in 2003 world cup.. what's yours??
6 responses

• India
26 Feb 08
I like that shot shot Sachin played against caddick.Sachin tendulkar is the best batsmen of India.He had 80 centuries in International cricket.Sachin tendulkar has scored oves 16000 in ODI and abt 11000 in test.He has the highest experience in the international format.Sachin tendulkar played over 400 matches in one day international and over 100 test matches.Sachin tendulkar came to the Indian team at the age of 16.He made his first century in one day international in his 74th match.There was a time in indian cricket where the victory of India was decided on the performance of Sachin tendulkar.He is also a very good parttime bowler.Sachin tendulkar's best two bowling performance was against Australia and Pakisthan at Kochi.Even though Sachin tendulkar had a very good test series in Australia he is not performing well in one day intermational.Sachin tendulkar was the highest run getter in the test series against Australia.He also got two test centuries in Australia in the test series playd in 2007-2008 season.Sachin is a valuable player

• India
11 Jan 07
all of his shots are favourite to me..but the most favourite of his is pull shot..no one in one days has got the perfect timing as him...

• India
11 Jan 07
for me the best shot of sachin is the straight drive. he has perfect balance, timing and it looks amazing..

• India
11 Jan 07
I like two of his powerful shots. 1. Square cut. People will that we can draw a straight line from the moment the ball leaves his bat till it reaches it boundary' 2. His handsome pull shot. Recently he his not using this shot much. His unforgettable shot is the straight six of TOM Moody in Sharja. Who can forget it.

• India
11 Jan 07
Straight drive is his special and a cheeky last minute cut on spinners is also his special

• India
11 Jan 07
straight drive boss!! sachin is damn gud at that...