What do you like most about this Tom Hanks starrer 'The Green Mile'?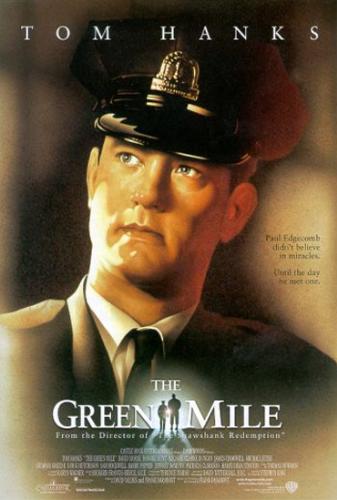 India
January 10, 2007 1:40pm CST
I liked the movie 'The Green Mile' a lot. But i was never quite able to make out what made me attract towards this movie. May be it was the different theme that did it. May be it was the emotions that melted my heart. May be it was the innocence of the huge character John Coffey that rung a bell. Nonetheless, i like the movie a lot. What do you guys like about this movie?
7 responses


• India
11 Jan 07
It definitely has a lot of emotions!! One almost feels pity and so sad for this John Coffey!!

• United States
2 Mar 07
I love this movie and have watched it many times. It's one that seems to linger with you even after it's over. There are so many different messages with in it. The characters are well developed and seem believable. It just seems to take you over and before you know it you are glued to watching it all play out. I think it was one of Stephen King's bettr written stories.

• Philippines
11 Feb 07
i like the over-all essence of the movie. from the main characters, to the flow of the story and up to the way the movie is shown and edited, it tells a lot about an inner substance in everything and everyone. this substance i am talking of is that what is not easily perceived by our senses. it tells us a lot of looking at everything beyond mere appearances and that judgements might overlook and miss the most crucial details. in other words, do not judge a book by its cover.

• United States
28 Jan 07
The fact that it stuck so well to the book it was like watching the story unfold on screen. Tom Hanks played his part well in this movie. I think one of the most interesting thing about this story is the fact that no matter where you are in time you are going to see people being persecuted for things they did not do. And people are going to stay silent while the innocent suffer.


• Philippines
12 Jan 07
i loved the book first. It was definitely a page turner and when i heard it was also a movie, i bought a DVD right away. What i loved about it is how we can relate it to our every day lives. It's easy to put the blame on somebody else especially if they look like John Coffey. But we really need to learn how to look past the appearance and see the person for who they really are.

•
10 Jan 07
I watched The Green Mile about a couple of years ago and I must say it is probably one of the best films I have ever seen. Tom Hanks was brilliant in it and also John Coffey. It kept my attention the whole way through and that is unusual for me when I watch films. It was very different and that is why I liked it.