What is the best age for a girl to get married???????????????

January 10, 2007 8:25pm CST
Hi friends what do you think is the best age for a girl to be married because early marriages are not good as the girls may not have mental maturity by that time and late marriages lead to many problems so what is the perfect age you think for a woman to be married.
8 responses

• Philippines
11 Jan 07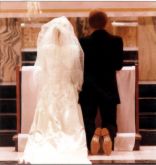 It is not fair to tie up marriage to age, because I got married at age 21 way too young according to others but I'm happier than those who got married at 28. People should get married if they are ready to include someone else's life in their priority. Being married doesn't mean you have to give up your own things just to give way for your partner's things, both of you have to learn how to compromise and understand each others need. As for children, some want to have a child while they are young (like me) so that they'll have more energy to watch the kids, while some want kids when they are around 30 so thay'll have plenty of money to support the kids. Over all marriage will depend on a person's maturity level and social status.

•
11 Jan 07
yes ofcourse what you said is correct but that is what i want to know the age you prefer so you said you are married at 21 so if you are happy in all the aspects then it is also a good age to be married


• United States
11 Jan 07
the best age for woman to marraige is souly depend on that lady and it defers form one to another. you have to be very careful before you decide for marraige. when u r ready from all aspect, then go for marraige. per physical concern it is better to marry within 22 to 28 of years of age and you should have your first baby within 24 to 30 age - this is the good time to have your baby too considering kids future and life time etc.

• Philippines
31 Jan 07
i think 25 is a good age to get married.. not too young not too old. but i think age should not be the basis but one should look at how matured a person is to get into marriage life. because you will have greater responsibility when u get married than being single.

• Bermuda
31 Jan 07
Whenever she is ready to do so, but i think around 22 or 23 would be great fo my girlfriend to be when we marry....but i have all the time in the world!

• United States
31 Jan 07
hummm....well... I don't think one can really say what an appropriate age for marriage would be. I believe it depends on the couple and their individual situation and love for each other. I do believe people should be at least 18 years old though. But after that, I think it is entirely up to the couple. Some people are very mature at 20, while others need more time to grow up before getting married. There are a lot of things to consider before getting married. I think it is very important that man and woman are sure they really love each other and have already established good communication. That is the key! It is important for them to really know each other - likes, dislikes, morals, values, ... I got married when I was 24. I think that was a great age for me. Notice I say for me. I was ready and I truly loved my husband. I had no doubts. At 24, I feel I had some time before marriage for myself. I was able to finish my bachelors degree, travel, and live on my own a little. This time to myself helped me grow and learn more about what I wanted and didn't want. I highly recommend that someone has some time to themself before marriage for this reason. so, no, I don't think you can really say you have to be ___ age before you can get married. It just depends on the person/couple.

• Romania
17 Jan 07
By responding to this question you make me to think that I become older again with one more year in 2007.I cant say if is a good age or a bad age but some are calling this age a good one.At this age you are able usually to think more mature than others which are younger,but also you can be in the crisis of this certain age.You have to have a good family and maybe children.As for me at this age I have a family ,a driven license which usually you can afford to have at the age of 18 here in Romania,I have a job but I do not have any children yet.I would like to have and I think is the best age to be already in marriage life.Some says that the best age to be married is around 29 years old but this depends from country to country.If you can guess what age I have it is very good and if not I will tell you that I am 37 and I am thankful to God for what I have and done till this age!May God bless you all even if you are old ,young ,married or not married!So if you can calculate the year of my born you will see that I was born in 1970!If you have around 27 is a good age to be married!

• India
11 Jan 07
Its more to do with the mind then the age, but i do feel they should have completed atleat 18 or 19 years of age, not before that. But also they should have some maturity and should be able to understand what lies ahead and the responsibilities that are awating for her, these are few things that should be kept in mind by any human being thing about marriage