What Stargate Character would you want to spend the day with and why?

United States
January 10, 2007 8:59pm CST
If you were able to spend the day with a character from Stargate, who would it be and why? I'd probably pick Vala. Her character seems so fun and from the first time she was introduced to the show, I loved her, but then again, she'd probably get me into trouble. But, I wouldn't mind spending time with Daniel or Mitchell either.
7 responses

• United States
11 Jan 07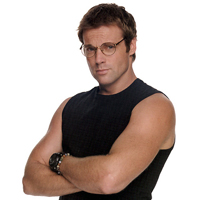 Pick just one? Oh that is hard to ask of anyone. Can't I go out with the whole team? That would be so much fun. I have to agree that Vala would be fun to be out with, trouble or not. She's a trip to watch. I could picture having a riot with her all day. I think though I'd go with Daniel. I like his style. He's cute to boot:), never hurts right? I could imagine having some really interesting conversations with him. That and he has a lot of depth to him. It would be fun to find out what all is under the surface. He just looks like he has a lot more going on then anyone realizes.


• United States
14 Jan 07
I have a hard time when trying to decide what character that I would want to spend the day with. I know that there are four characters that I would choose from but which one, I am just not sure. I like Cam, Teal'c, Daniel, Sam. Cam seems like a strong, caring and capable leader who has a sense of fun. He is a good warrior. I like Teal'c because he is a strong warrior who has a strong sense of duty and what's right and wrong. He also has a small sense of humor that comes out in small ways. I like the way he says "indeed" for so many ocassions. He makes it into an all ocassion word! Daniel is super smart and very excited by some of the things that they discover on other worlds. He's also sexy in that librarian sort of way. Sam is super scary smart. I'm not sure I would understand a thing she said but I love her brain. Plus she's caring and loyal. Those are the four characters that I would choose from though Vala is a fun character too.

• United States
12 Jan 07
I love Jack ONeil. I think he is very witty and funny. He is not bad to look at either. I don't see how they can keep the show going without him. I would not mind fighting the bad guys right along side of him. I kind of like Telc too but if I can only choose one it would be Jack.

• Ireland
20 Mar 07
I would want to spend the day fishing inO'Neill's fishless pond. Or maybe hanging out with Thor! |That'd be pretty cool. Too bad they killed off the Asgard.

• United States
31 Mar 07
Wow!! They killed the Asgard? I'm in the US so we haven't even seen the last season yet. :( The new season here doesn't start until April 13th, that's going to be hard because I want to go read spoilers on it but I"m going to have to avoid all Stargate stuff online until then so I can be surprised.

•
21 Jan 07
It would be michael shank ( daniel ) or lexa doig ( dr lam). I like michael shank , he is suppose to be the moral conscious of the team and he does play out the role very well. He is indeed a good actor. lexa doig don't have much scene in stargate but I do like her role in andromeda and another reason is she is michael shank wife.

• United States
14 Jan 07
Daniel. No question about it. I love his passion and his intelligence. I'd either want to him lecture on language or mythology, or just listen to him translate. If they brought the Unas back, I'd like to visit them with Daniel there, translating.

• United States
4 Apr 07
Daniel definately! I have had the hots for hims since the show started! Looks and brains! What a combo! I am devastated the show will be ending.