How to Win Friends and Influence People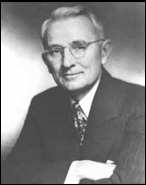 Mexico
January 10, 2007 11:35pm CST
How did Dale Carnegie's book, How to Win Friends and Influence People effect your business and personal life? Have you read the book? Many managers and executives claim that this book is the cornerstone in any education on interpersonal relationships and how to interact with people effectively. If you have not read the book lately, you can read excerpts for free on the Amazon.com site: http://kevin.ultimaterep.com/amazon.cgi?0671027034 One of the things about this book that sticks with me is Dale Carnegie's statement that "the sweetest sound to any person is the sound of his own name"; which has led me to my recent development of "self personalizing" websites that extract display and pronounce the first name of the person viewing the website in traffic exchanges.
4 responses

• United States
13 Jan 07
Yeah, I read most of it, it's a pretty easy read. About halfway through I realized it's about the same thing I had been learning in other seminars and stuff. You need to learn what to say to a person in order to get them to get the job done. It's really fun though when someone else has read it and is trying to use the techniques on you. I just want to tell them - hey, I read it to, can't we just get to work?

• India
24 Apr 10
Oh yes, this is the most wonderful book that I have ever come across... I am no manager or a highly placed official.. and yet, it has helped me a lot, while socializing... Trust me, this book should be made the text book to all schools... It'll resolve so many issues all around the world... Dale Carnegie was a great guy... Had he been here today, I would have done everything to meet and have a conversation with him...

• Czech Republic
22 Apr 07
Hello! I thing, that that book is for marketer a MUST! I have just too wrote about in my blog: http://www.blogcharm.com/aglocoincome/ You are wellcome here too.

• Sweden
26 Mar 07
I think we can use the ideas in the book and just enjoy giving something to others. No need to think about what we can gain about the relationship all the time. Human beings were created to make others happy and at the same time we can feel happines about it. Good relationships are also important to make business and as everybody has to make some living, we can as well do it together with people we like and have a good contact with.