Macaws make great pets!

Mexico
January 11, 2007 2:44am CST
Although we have many types of parrots, Macaws are the largest and most beautiful, the most long lived, and perhaps the most intelligent. We have a male scarlet Macaw named Max, a female blue and gold named Nadine, A male Catalina Macaw named Archie, a male blue and gold named Navajo and a green wing Macaw named Star. Tell me stories of your experiences with intelligent feathered friends. Macaws live longer than most people, so taking them into your family is a serious commitment. Winston Churchill's female blue and gold Macaw is still alive and still cursing Hitler.
4 responses

• United States
15 Jan 07
hello. i have a greenwing macaw, 2 blue and golds and 4 umbella cockatoos,1 mollucan cockatoo, 1 bare-eyed cockatoo and a goffins cockatoo. i love my little flock. i'm glad to see that you mentioned the comittment required to have these large birds. often people buy them not realizing the expense, and time, etc. so many end up unwanted and in shelters or worse. i am involved in avian rescue. it's just so sad. if only people would educate themselves. you sound like you have a great flock. it was nice reading your discussion.

• Mexico
15 Jan 07
Tell me about your Mollucan Cockatoo. We had one who we had to trade for a greenwing macaw, because we felt he belonged in a one bird family. When my daughter would have him in her lap and she even spoke to me, he would hop down, then very deliberately march over and bite me, because he was jealous.

• India
16 Nov 09
I like Macaws very much and they are very cute to see.I have brought one Macaw and parrot and i love it very much.Macaws are similar to parrots and everyday i take care about these parrots and their food and diet.I usually watch in TV different types of parrots and macaws.Macaws are the great pets and every year i visit to see pets,birds and animals with my friends.Macaws pets look very beautiful and it should be kept in a cage.

• United States
9 Jun 07
I have always been an avid bird lover myself. I went to Australia in December and came in February. I was so amazed by the birds there. This was my dream trip! I have been breeding birds now for 10 years. I have to admit my favorite bird is my Blue and Gold Macaw. Her name is Rex and she is the king of the house! I got Rex when she was just a chick and hand raised her. I did have a male Blue and Gold but for some unknown reason we lost Puppy a few months ago. The family and Rex are still adjusting to this great loss. Hopefully once we are healed we will once again welcome into our home another Blue and Gold Macaw. They do make such wonderful pets!

• United States
20 Jan 07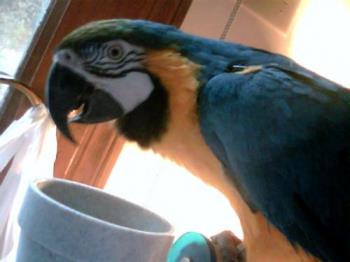 I have a blue and gold Macaw, Lucy. She is 12 years old and I have had her since she was 7 mos. I wouldn't trade her for the world. Although lately some days I think she's going to drive me to craziness. She goes through phases of being very obnoxious. Screaming words instead of talking. She's very smart and knows what buttons to push..lol I had a quaker parakeet that was very smart. He could just about carry on a conversation. He was very funny. He met with an unfortunate accident. I had a man living with me, that had alot of mental health issues and mild retardation. He was trying to put a water bottle in the cage and it fell on him. This is the story he gave anyway. I choose to try to believe it was an accident for my own mind. This was his favorite bird and he had taught him so many words and phrases. It was discovered after that however that he was abusing the animals when know one knew. Well that's a whole other story but he now lives in a group home. Of course it took him abusing two dogs and killing my ferret to get him there.