Please smoke more!

United States
January 11, 2007 1:01pm CST
First of all, the people who are smoking are adults and responsible for their own health and decisions, not to mention pocket books. Unless they've been hiding under a rock the past few years, they realize smoking is dangerous to their health. They also realize there are resources to help you quit. The advertising campaigns out there do a pretty good job about getting this across. So I see all these discussions on here encouraging people to quit and getting into the entire health debate. I figure if they are not smoking around any one else that could be bothered by it or in doorways (where we non-smokers have to walk through) then let them. By smoking they are funding the public education system with their taxes (at least in Texas). They are also lowering the likelyhood that they will be around to collect on their portion of social security. Since that system is failing anyway, the less folks collecting on it the better. Yes, that might seem a little cold, but these folks are adults and enjoy their vices. When I smoked I sure used to enjoy it!
4 responses

• United States
11 Jan 07
Amen. I'm sick of people telling me I should quit smoking for this reason or that reason. If I wanted to quit, I'd quit. I know what's going into my body. I'm fully aware. And I enjoy it and I smoke when I'm alone and I don't smoke around non-smokers or out in public. It's my vice, and I'd really just like to be left alone to it.

• United States
11 Jan 07
And I'm glad you do, too! Means I have to spend less tax-wise. Now, on the other hand, don't be expecting any kisses any time soon, LOL!

• Indonesia
12 Jan 07
agree... just see "thank you for smoking" movie? starring : aaron eckhart, katie holmes

• United States
12 Jan 07
Actually, no. But now I have a movie to go find.

• United States
11 Jan 07
Dear helpful idea, after reading this, I have decided to quit once and for good. Your blunt approach really made me open my eyes. There were so many punches in every sentence that I would of normally gotten upset. But that was a bittersweet truth. Great Discussion.

• Romania
11 Jan 07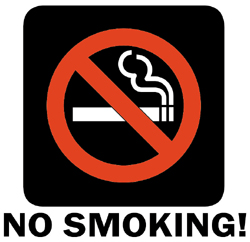 News Update!!! Not everyone who smokes is an responsible adult, many kids are having this unfortunate vice with some "help" from their friends or environment. Anti-smoking campaigns should continue to be an intense and constant effort because ultimately it's everyones life in stake. Just my opinion...

• United States
11 Jan 07
That's an entirely different issue. That is illegal and law enforcement needs to be dealing with it better. This post is about informed adults.