how did you come up with your dogs name?

United States
January 11, 2007 9:39pm CST
I had a Lab named Jason. I named him that because he actually looked like A guy named Jason that I went to school with. It was an uncanny resemblance. Every Pet has a name and I'm sure you didn't just pull a name out of the clouds. So let's start this Discussion.
7 responses

• United States
12 Jan 07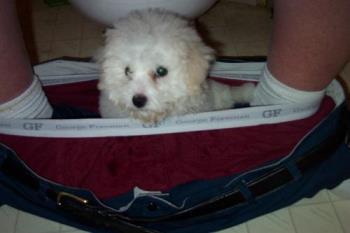 We had our dog for 2 days before we settled completely on a name. We wanted to see what her personality was first and then decide on a name based on that. It wasn't easy, she was a little fireball with a stubborn will and enthusiasm. She was a little white fluff ball with attitude! So we needed a cute name that was strong. We settled on Roxy! The "R" sound gives it the strong sound and commanding attitude that we needed. See picture for our cute little girl.

• United States
12 Jan 07
Wow, that's cool I believe most people name their pets based on their personality. When I was just a boy I had a beagle. When he was a puppy he would always peek around corners before actually proceeding, So I named him peeky.

• United States
12 Jan 07
We had a wiener dog named Alfie when I was a kid, because he looked like that alien guy ALf. Right now I have a beagle named Squirt-R-Bug because she was the runt of her litter and just a little squirt. I have a black lab named Noodle because when he wags his tail his whole body wags with it like a wet noodle. I have a cat named Souie-climb-a-tree, named by my kids who wanted and "s" name and obviously, Souie likes to climb.

• United States
12 Jan 07
Wow those are really creative names. It's always fun to name your pets. It's amazing to see where the names came from.


• United States
12 Jan 07
I was drawn to your discussion because I love the name Jason and noticed it in your text *laugh* My family had two dogs named Moxie and Goldie. I wasn't personally responsible for namking either. Moxie may haev had his name before we got him, since I think that my father took him over from his brother's care when his brother was no longer in the position to keep a dog any longer. Goldie was named because of her lovely golden color. We have had other pets that I was more involved in the naming of, but they weren't dogs *laugh*

• United States
13 Jan 07
Cool!! I'm lovin how you just knew where I laugh. or is it like a teleprompter. "laugh" See what I mean, but honestly I love animals everyone thought jason was a weird name for a dog, but it was his name and as long as he liked it that was all that mattered.


• United States
13 Jan 07
That's cool, I like both names but Scooby is the one. LoL


• United States
12 Jan 07
See what I mean there are all sorts of ways to name your dog. Brown wasn't a hard name to come up with however it is highly effective. Gets the job done and it sounds cool

• United States
12 Jan 07
my White Dog an american spitz was name White fang after the movie then We got a creamed colored chow and named him cherokee for we are native american then he had a son that is pure black and names hin daivid allen coe for thaat swhat my son wanted and he has a roc. that we names apache . Fo rsome reason all these names fit the dogs just fine