What is your opinin about iPhone?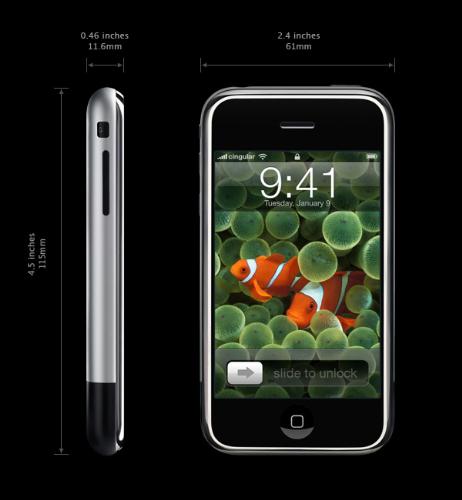 India
January 11, 2007 11:33pm CST
As iPhone is out, what do you think about its market prospects? I think it would be very much successful like iPod. Do you will that will it be more successful than blackberry.
2 responses


• India
15 Jan 07
The Apple iPhone (styled iPhone) is a combination camera phone, PDA, multimedia player, and wireless communication device announced by Apple CEO Steve Jobs during his keynote address at the Macworld Conference & Expo on January 9, 2007.[1][2] The iPhone will support push e-mail, mobile telephony, text messaging, web browsing and other wireless information services. Unlike most smartphones, the iPhone will not include a built-in keyboard or keypad; input is accomplished via a combination of technologies, including a touchscreen with software virtual keyboard and buttons. Apple has indicated a variation of the Mac OS X operating system will run on the iPhone, but distinction between the operating systems running on Macs and iPhone have not been officially explained. Third party applications are, as of now, limited to a "controlled environment".[3]The iPhone has a scheduled release date of June 2007, pending Federal Communications Commission approval, and will be available from the Apple Store and via Cingular. iPhone has a planned launch price of $499 (U.S.) for the 4GB model, and $599 (U.S.) for the 8GB model. Jobs also mentioned in his keynote that Apple has a "plan to make 3G phones" in the future.[4] Apple has filed over 200 patents related to the technology behind the iPhone.[5]Like other iPods and unlike most mobile phones, the iPhone features a built-in battery that is not intended to be user-replaceable.[6]There will be new headphones which are similar to those of current iPods, but which incorporate a microphone. Calls can be answered and ended by squeezing the microphone. Wireless earpieces that use Bluetooth technology to communicate with the iPhone will be sold separately. The loudspeaker is used both for handsfree operations and media playback. The iPhone has the ability to synchronize with Apple's iCal (for calendar and notifications), Address Book (for phone numbers), and iTunes. Windows users will be limited to iTunes synchronization. The email program Outlook for Windows cannot be synchronized with the iPhone[6] Jobs announced that the iPhone will first be available in June 2007 in the U.S., Q4 2007 in Europe, and in 2008 for Asia. Availability for Canada was not officially announced by Apple but Rogers announced they would carry the iPhone Q4 2007.[9] The initial U.S. release will be offered in two configurations with two different prices, based on a 2-year phone service contract: a 4 GB model for US$499 and an 8 GB model for $599.