would you change your hamster for a frog?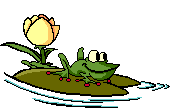 Romania
January 12, 2007 6:13am CST
frogs are also intelligent...:)and green...
7 responses

• Indonesia
13 Jan 07

no, i wont! frog are wet.i dont like it.: hey i talking like i already own hamster!nice try there symontimea! lol


• Philippines
12 Jan 07
I would still prefer the hamster thank you very much :)



• Romania
12 Jan 07
i would never change my hamster for a frog!!!!especially not my hamster (the one i used to have):)

• Philippines
12 Jan 07
i would prefer hamsters. i find them very furry and cute. i would love to have it as a pet. as for frogs, i didn't know they are intelligent. they are usually moist and have a certain smell. it's sad, but since i am a biology student before, frogs are the most favorite specimen for dissecting and experiments.