Do you like cakes?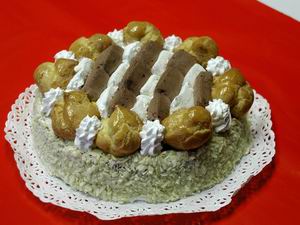 Italy
January 12, 2007 7:56am CST
I like cakes so much!!!! But I can't eat a lot of pieces or I become fat:D I like the Saint Honorè, it's a very good cake. Do you like cakes? What kind of cakes?
4 responses

•
4 Apr 07
I love chocolate cakes from Goldilocks in the Philippines. I just love chocolate cake and I can eat one big platter of it. I don't worry about getting fat. I have a slimming tea that will help me get rid of unwanted fats LOL! I also love ice cream cake next to chocolate. With this cake I like strawberry flavor. Hmm. I could eat about half of the platter. I just have a sweet tooth for them.

• Malaysia
4 Apr 07
Just like yourself,I too like cakes so much. Thankfully, i don't easily gain much weight because of cakes though i ea them quite regularly. Anyway, even if were to gain a few pounds, I don't mind at all. It's just worth it! Anyway, my favorite is moist cakes espeially Chocolate cake. In fact, i love all chocolate cakes. I enjoy eating cakes that are rich with chocolate. That's one of the reasons why I just love Chocolate Mud cake. My favorite are the ones made by Thank God It's Friday (TGIF). Though they are not cake or bakery shop, they make delicious and excellent cakes. Among other cakes that I like eating are Carrot cake, cheese cake, mocha cake, coffee cake and fruit cakes as well as fruit based flavors cake. Oh, Another flavor that i like is Pandan leaves flavor. It is one flavor that can easily be found locally here in my country.

• Sweden
12 Jan 07
i am a cake lover. but only chiffon, mocca and my favorite... chocolate cakes!!! i love cakes and i am glad i don't get fat when eating loads of it. i am lucky i don't get fat or else, poor me then.

•
12 Jan 07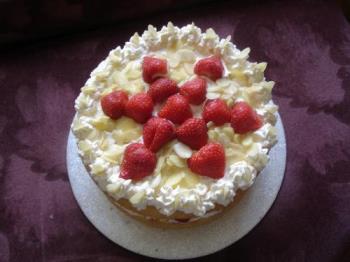 Yes, I like cakes very much. In fact, I bake and decorate celebration cakes. I, and most of the people I bake for on a regular basis, enjoy carrot cake very much. I have used the same recipe for quite a while, but I add a little mixed spice and extra nuts to get it to my liking. That's a very popular cake, in England. Other than that, I love Lemon Drizzle Cake and Farmhouse Fruit Cake. There's not much I don't like in the cake line, except perhaps for chocolate. I'm not so keen on that. I love to eat Cadbury's chocolate bars, but am not so keen on chocolate flavoured cakes and desserts. I'm posting a picture of a Strawberry Gateau which I made for friends of mine, in the village. Sorry if it makes your mouth water.:-)