Meet my Puppy!

United States
8 responses



• United States
12 Jan 07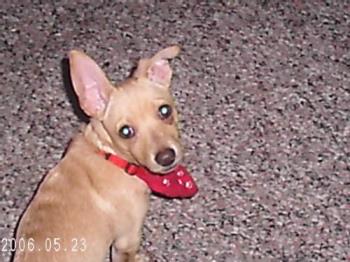 oh Junior is so cute.i always wanted a teacup maltese but their really expensive.i have a german shepherd and a chihuahua/rat terrier mix dog.both of them are spoiled rotten.heres a pic of my little dog.

• United States
12 Jan 07
He's absolutely adorable! You can tell by his face that he has a good "personality"! I have always preferred small lap dogs to the larger breeds. I have an indoor cat who is almost 11 years old- he's a major part of the family (very loved and spoiled). I would love to have a dog, but I am not able to be at home enough to give a dog the attention that it deserves.

• Australia
12 Jan 07
OMG he is beautifu;, I love him, is he nearly full grown in that photo.....he is so tiny.....

• United States
12 Jan 07
Oh, wow, Junior is a sweety. I love dogs. Mine range from less than a pound to around 175 pounds. Chihuahuas and English Mastiffs. The Mastiffs are outside and my little man, Malcomb, is my little bed partner. He has a set of steps to get up and down on. He is so sweet.Not quite a yaer old yet. I love him so but I love my big girls also. I dread the day the old grandma Mastiff goes. She is almost 11 and was a breeder so she has lived long past her time. She never fails to amaze me.

• United States
12 Jan 07
He is such a cutie. I love teacups. I especially love his color, I have a white mixed poodle but she lives with my mother because my apartment does not allow dogs and I got caught with her here.

• United States
12 Jan 07
Junior is adorable! Right now I have a cat. My next pet is going to be a dog. A Welsh Corgie, I like the cardigans! Congrats on the new addition!