antakshari !!!

India
October 3, 2006 9:59am CST
post few lines of a song ending with the letter in the above post !! ..cummon start singingg !!
4 responses


• India
28 Oct 06
No one knows what it's like To be the bad man To be the sad man Behind blue eyes And no one knows What it's like to be hated To be fated to telling only lies [Chorus:] But my dreams they aren't as empty As my conscience seems to be I have hours, only lonely My love is vengeance That's never free next = "e"

• India
28 Oct 06
gre8 !! ...hindi songs are real superb ! ...papa kehete hai bete naam karegaaaa ...hehhe ...thats hw it goes ! ..i think so ?? next "i"

• Philippines
4 May 07
so i guess.. the next song should start with e again? everyday I'll always love you... so next starts with letter U

• India
30 Oct 06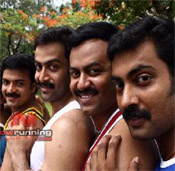 i'll sing a mallu song ente khalbile vennilaavu nee nalla paattukaara thattamittu njaan kaathuvacchoren mulla mottiloorum atharonnu veende?