Falsing dollars - myth or possibility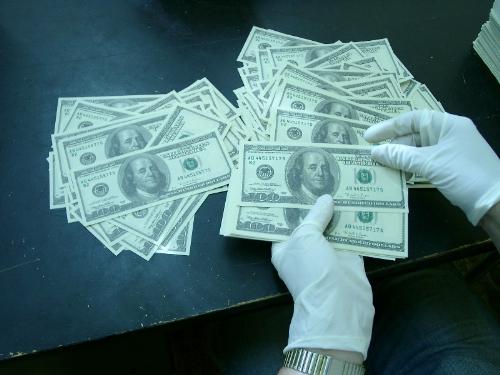 Poland
January 13, 2007 2:36pm CST
I just wonder is it possible to make a false dollars? I know goverment uses special paper with watermarks as much as special non washable ink and special matrix to make money but isn't it possible for someone who can pull many strings to get all this stuff? and to start their own production?
5 responses

• United States
14 Jan 07
I finished fraud prevention program. It was great. All I can tell you, all of them are catch sooner or later. Making false money is so easy to do, but I can not tell you how. I would never attempt to do it.

• United States
14 Jan 07


• United States
13 Jan 07
Yes it is possible to make a false dollar I have seen a $50 once my boss showed it to me to show me the difference between a real one and a false one. He had gotten one pass off to him. He was trying to teach me to tell the difference in the dark. Because I was a bartender at the time. But when ever someone brought me anything larger then a $20 I would just send them upfront to the package store to get it broke first. :)

• United States
13 Jan 07
People have often tried to counterfeit the US dollar, and eventually failed. It is also a federal offense to make counterfeit money. With the advancement of technology, it has become easier to do, but that is why the federal government has also made changes to the currency to make it more difficult to do.

• Melbourne, Florida
13 Jan 07
There will always be criminals who are two steps ahead in the world of technology.

• United States
13 Jan 07
The police in My area just arrested a man for making fake money.Imn sure it is possible but I wouldnt try it.