What is the dog that has the best personality and safest around kids?

Canada
5 responses

• United States
8 Feb 07
Not to sound redundant, but I would have to say that Labs and Golden Retrievers are the best dogs for kids. And they also seem to be extremely intelligent and have the greatest personalities. My dog is a lab/retriever mix and is the smartest dog I've ever seen, and has a great and hilarious personality. He is also very wonderful around kids and babies. My two year old niece is constantly pulling on his tail, and he never barks or growls, he'll just kind of try and get out of her way. And even when he is at a full jaunt, and running around outside, if he gets close to her, he'll put on the brakes so he doesn't scare her. I think of course, with any dog, you have to train them and make sure they understand what is the correct behavior around children. Once they learn it, through repitition, they will stick to it around any kid.

• Canada
9 Feb 07
I have to agree. I have looked at many other types of dogs and some are cute and some are not but none of them give me the good feelings I get from a lab or retreiver. The personality and good nature is why I love them so much. Thanks for your great response CharmedBrianna


• United States
2 Feb 07
I have a black lab and a lab/golden mix and they are both wonderful. Although if they are not properly socialized then even labs can snap. The key is in the training. I also have a golden retriever/cocker spainel and he is also great. I have a minpin too and you should stay away from them for sure. I would just make sure that you do not rush and find a dog that has a submisive additude.

• Canada
2 Feb 07
I have to say those are the two I think I like the most for their personality and they just seem kind. And I always believe a dog should be well trained. I trained my Shadow right from 6 weeks old. At any time I or anyone could put their hand right in her mouth while she was eating and she would do nothing. I was so afraid to have a dog that would snap. But even at that she has snarled at a few people she didn't like but she never barked at them or tried to bite. I am almost certain I would go with a lab again. They just seem to be the dog for me.

• United States
14 Jan 07
I have a black lab and collie mix. She is absolutely wonderful! Both labs and collies are extremely intelligent dogs and very easy to train (remember lassie?). I've taken Kiara around my nephews (18 months and 7 months) and she's been great with them. But, when looking for another dog, I think it's important to realize that no matter how placid a breed may be known to be, that it's still about training them properly and socializing them as soon as you get them! My brother has a pit, a breed commonly known to be quite aggressive that they trained and socialized as a pup and is now their son's best friend (at 7 months). I read that you don't have children at home with you, but for concerns of walking the dog and everything, I really think a lab or any retriever type of dog might be good. They're very loving, loyal dogs, and easy to train and socialize! Oh, and I'm a huge advocate of shelter dogs! So, definitely look into that as an option! Though some of the adult (and young) dogs do suffer from abuse and may not be the best option for being around kids, go to your local shelter and look around and talk to the staff and they could help you to pick out a wonderful companion!

•
14 Jan 07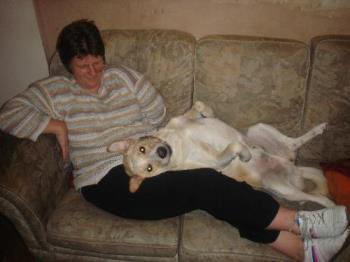 for me there is no doubt, the only dog i would trust around my children is a labrador. I know everyone will say their dog is safe but a labrador is so placid and loving no other gets near it