the best scene of armageddon is best scene ever

India
January 14, 2007 12:47pm CST
the ending scene of the movie...when bruce wilis talks to her daughter and he comes on tv everwhere in the space station....that is the awesome scene ever i ever seen....great.... i never seen that kinda scene... mindblowing scene........EVERYONE SHOULD WATCH ARMAGEDDON ONCE ATLEAST.
6 responses

• South Africa
15 Jan 07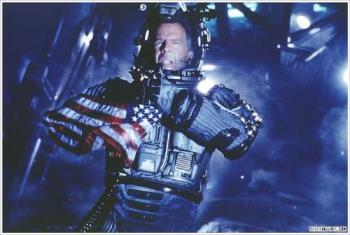 I agree, it was so hard not to cry at the end. Bruce Willis is truely a good actor. This movie grasp my attention throughout the whole movie. It had drama, action, sci-fi, humor everything a good movie should have.

• India
15 Jan 07
yup true that one scene is baap of all the scenes....... this movie is great and i must say BRUCE YOU ROCK MAN...... THAT MOVE SHOULD HAVE WON OSCARSSSSSSS ....WOOOOHOOOO.... EVERYONE SHOULD WATCH THIS MOVIE

•
9 Feb 07
I totally agree, everyone I have shown it too either has a lump in their throat or a tear in their eye. very good acting indeed especially where the screen goes off and she runs her hand down it, that is when you know it is all over and what he is about to sacrifice for his daughter to be happy.

• India
5 Feb 07
couldnt have chosen a better scene myself evenin a gzillion years... ive been a movie buff for the better part of my short life...have seen all kinds of movies but this truly is the greatest movie i ve seen... massive acting by bruce willis... the movie does cast some sort of a spell on its audience... a milestone and benchmark for all other movies... even liv tyler is too good....everyone is gr8... the scene that we r here to discuss is actually one of the best presented scenes that i have seen... well thats wat i felt ...now u temme

• Philippines
5 Feb 07
i love that scene also..when bruce tried to say goodbye to her daughter..i think i can see the movie over and over again and still shed some bucket of tears. i just love to see how dads loves thier children..

• Philippines
1 Feb 07
I like the scene where they have a psychological test before going to space and they all failed. I also like the scene where one got space dementia and he was tied down because he is doing some crazy stuff.

• United States
31 Jan 07
AMEN! WHen i first watched this movie as a young kid, I didn't really understand the full meaning of it. However, watching it as a young adult, i realize the passion and sacrifice that the final scene incorporates. It is true film genious. Makes me cry every time. My sister always cries upon hearing the song "Don't Wanna Miss A Thing"