Can Justin save Britney?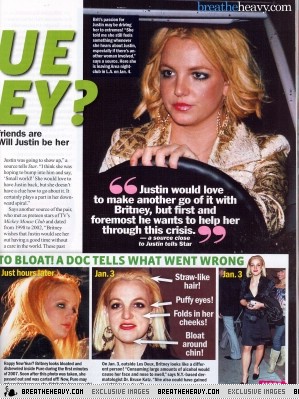 Philippines
January 14, 2007 7:46pm CST
We can see Britney party 24/7. Making BFF with Paris Hilton for just a little while. We've seen her fall. And now all people wants her down. People are screaming to her, telling her that she's not a good person. She is addicted with coccaine or all liqiours. Whatever. Recently, it is reported that she vomits right on Isaac Cohen's lapa after partying hard at The Abbey. With all her actions, with all her messages, comments and everything she is... No one will really appreciate and believe to what is truth that is left on her. Whatever. But one thing is helping her survive, her family, her two wonderful boys and of course.... Justin?Are you guys hoping to that Justin and Britney go out again for the second time around?A close source of Justin tells that, "Justin would love to make another go of it with Britney, but first and foremost he wants to help her through this crisis."For me, that statement is enough.
1 response

• Singapore
15 Jan 07
If I were Justin, i would like to love Britney very much. I'll make her behavior changing.