Do you like Tortellini?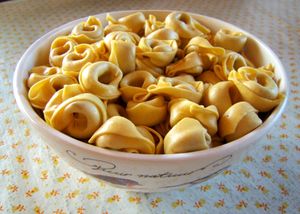 Italy
January 15, 2007 7:54am CST
Do you like Tortellini? I'm just curiois. Torellini is a typical italian food (from the city of Bologna). I would like to know if you have eaten it and if in other nations this food is cooked and what's the method for cooking them.
8 responses

• United States
15 Jan 07
Oh yes!! I LOVE tortellini! I have an awesome recipe for it, too! I've eaten it in restaurants before and I've also made it at home. It's one of my favorites! This is the recipe I have. It's delicious! You can put pretty much any sauce on it you want though, like alfredo or marinara. You don't have to use the Ceasar dressing it calls for in the recipe! :) Tortellini Primavera: Ingredients: 1 package (9 oz) refrigerated cheese tortellini 2 medium yellow summer squash, chopped 2 medium zucchini, chopped 2 teaspoons olive oil 1 pint cherry tomatoes, halved 1/4 teaspoon pepper 1/2 cup caesar salad dressing (or other sauce) 1/4 cup shredded Parmesan cheese 1/4 cup sliced almonds Directions: Cook tortellini according to package directions. Meanwhile, in a large skillet, saute yellow squash and zucchini in oil for 4-6 minutes or until crisp-tender. Drain tortellini; place in a large bowl. Add the squash mixture, tomoatoes, and pepper. Just before serving, drizzle with salad dressing or sauce and toss to coat, and sprinkle with parmesan cheese and almonds. Serves 6. *Sometimes I like to add some grilled chicken and artichoke hearts in with it! :)

• United States
15 Jan 07
Funny that you should ask this question. There was a time when I liked tortellini (my husband is Italian-American), but when I was pregnant with my first daughter, I fixed cheese tortellini and just the smell of it made me feel sick. I couldn't eat it then and have not eaten it even fourteen years later! I like almost every other Italian food though. Here in America, we have access to all sorts of different foods.



• Australia
18 Jan 07
me like tortellini, ravioli home made ghinochi

• Brazil
17 Jan 07
Oh yes I like tortellini, but it's been a while since I ate it actually. Usually I just eat it with some simple tomatosause, obviously depending on the filling. If it's creamy them maybe just some ground peppar on top and parmesan. mmmmmmm....

• United States
16 Jan 07
I LOVE tortellini tossed with pesto and some roasted bell peppers...mmmmmm good!