Happy Martin Luther King Jr's Day!!!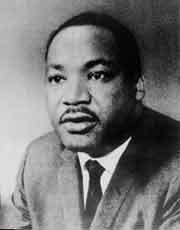 United States
January 15, 2007 11:46am CST
Hey Everyone!!! I was just wonder what are y'all going to do today for MLK day?! I haven't planned much. My husband and I will be playing some board games later and maybe a dinner out. Depending on how my daughter feels today. But, all in all I'm going to enjoy it. Hope y'all are going to.
8 responses

• United States
15 Jan 07
I went to a gathering in Northampton, MA. There were workshops, singing, dancing, and films and video. Everyone ought to see "Teaching Tolerence" by Southern Poverty Law Center. It's an amazing film. I saw an excerpt today. I had a cookie. I learned stuff. I was entertained. Pretty good for a $1 donation (which was optional, by the way).

• United States
15 Jan 07
Why thank you I'm kicking back playing some games online and responding to discussions.

• United States
15 Jan 07
Well since my husband has to work today I am home with all 4 of my kids. My friend came over and is doing some laundry since she dosnt have a washer and dryer yet and her kids are playing with mine. We really dont do anything special. Later tonight when it is quiet I will say a silent prayer to the goddess.

• Greece
15 Jan 07
For us in Greece there is no celebration for this day. So, we all do exactly the same things as yesterday and the days before. But for you... Have a great time!


• United States
15 Jan 07
It's Martin Luther King Jr's day. It's a holiday that we celebrate here in the USA after his honor for fighting for people's rights.

• United States
15 Jan 07
I went out today and went to see the movie "Night at the Museum" and it was a very good and funny movie. I think you would laugh pretty hard if you saw this. Very entertaining. I also did some grocery shopping and will be trying the chai cocoa recipe that I put on here the other day. I will be exercising and watching tv and be on myLot the remainder of the day. I hope that you and your family are having a wonderful day together. It is nice having an extra day off from work.

• United States
21 Jan 08
I was supposed to go out to a big community event, nut I had sinus issues today. So I didn't go out, as I need to better to go sell books this weekend. I'm oing to try to do some virtual service, if I can find some that's quick. I write more of the Morris story.

• Romania
4 Feb 07
Martin Luther King, Jr. (January 15, 1929 – April 4, 1968) was a famous leader of the American civil rights movement, a political activist, and a Baptist minister. In 1964, King became the youngest man to be awarded the Nobel Peace Prize (for his work as a peacemaker, promoting nonviolence and equal treatment for different races). On April 4, 1968, Dr. King was assassinated in Memphis, Tennessee. In 1977, he was posthumously awarded the Presidential Medal of Freedom by Jimmy Carter. In 1986, Martin Luther King Day was established as a United States holiday. In 2004, King was posthumously awarded the Congressional Gold Medal. He was known as a great public speaker.[1] Dr. King often called for personal responsibility in fostering world peace.[2] King's most influential and well-known public address is the "I Have A Dream" speech, delivered on the steps of the Lincoln Memorial in Washington, D.C.