thunderstorms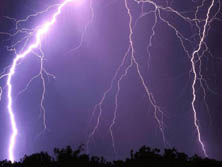 Italy
4 responses

• Greece
16 Jan 07
No.At my coutry we haven't many thunderstrom.When it happen i don't afraid from them.Not even i'm sleeping.

•
15 Jan 07
Oh yes there are. I live in the US and get them alot, in the spring and last few years in the fall. Yes I am scared of Tornados that can come with Thunderstorms. Our current home does not have a basement, so we have to drive accross town when we know a bad storm is coming and go to my mother's house. She has a basement and yes I am a chicken, LOL. I never thought about other countries not having storms like us. That is pretty interesting. Thanks for posting it.

•
15 Jan 07
we are getting quite a few in England, usually towards the end of summer as the days get cooler. I love them the wild energy of a storm is so sexy particularly when you get repeted lightning flashes

• United States
1 Feb 07
I live just outside of Tampa which is often called the lightning capital of the world. I like thunderstorms as long as I am indoors. They are beautiful to watch. But dangerous.